(Chè Đậu Đen Nước Cốt Dừa) - You can use
Black Bean Sweet Soup with Coconut Syrup
when it is hot or cold is all amazing.
However, I usually eat it with minced ice. Mix them all together and let us eat. It is such an amazing flavor in your mouth.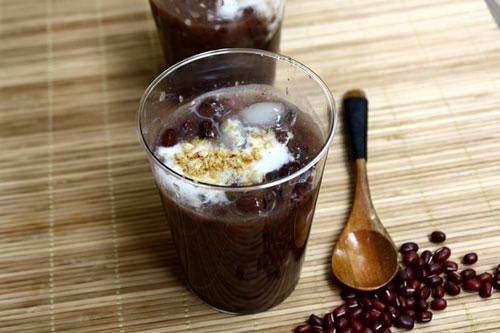 Ingredients
- Black bean: 200gr
- Sugar (depend on your flavor)
- Water: 5 bowls
- Some pandan leaves, cleaned
- Coconut milk: 1 bowl
- Tapioca flour: 3 – 4 teaspoons
- Salt: 1 teaspoon
- Banana oil: 1 teaspoon
Process
- Clean and soak black bean in cold water about 30 – 45 minutes. Pour water into pot, add pandan leaves and cook until it boils. Next, add black bean + 1 teaspoon salt into pot and cook until it is soft. (It costs about 50 – 60 minutes).
- If water is running out, you should add more water and continue simmer until black bean is soft. Then, add sugar into pot and taste to suit for flavor. Remember, when you simmer black bean, make sure use small heat.
- Making Coconut syrup: Mix tapioca flour with coconut milk and stir well. Then pour into small pot, cook until this mixture becomes thick with small heat. Turn off the heat and add banana oil into syrup, stir well.
- Scoop into bowl; pour a little coconut syrup on face. If you love enjoy cold dessert, you can add more minced ice, mix them together and enjoy. I bet your kids will love
Black Bean Sweet Soup with Coconut Syrup
a lot.
Moreover, black bean contains many benefits for your health and body. One is help you getting diet fast and the second one is make your skin look younger and healthier.