(Chè Caramel Chuối) - Caramel Sweet Soup with Banana Recipe is really amazing when eating in hot days.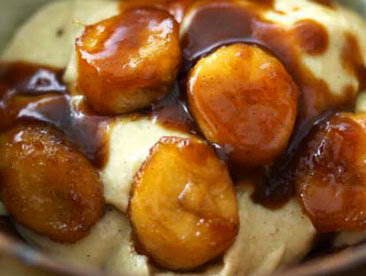 Ingredients
Sweet Soup
- 5 yolks
- 100gr sugar
- 30gr corn starch
- 2 banana +
- 500ml fresh milk (no sugar)
- 40gr butter (you can use salty butter)
Sauce
- 80gr brown sugar
- 40gr butter
- 80ml milk cream.
- 2 banana.
Process
- Mix 5 yolks + corn starch + minced banana together. Stir well, then add a little milk and continue to stir. We call it is Mixture A.
- Mix all milk left + sugar together, boil with small heat about 5 – 8 minutes. Next, pour mixture A into pot and boil with medium heat about 3 – 5 minutes.
- Next, add butter into pot and continue boil until butter melts all. Then, put this mxiture in fridge to make cold.
- Making sauce: Mix brown sugar + butter + a little salt together, cook until all them melt and boil with small heat. We call it is Mixture B.
- Peel off the cover of banana, slice small. Add them all into Mixture B, stir well for a while and take only banana pieces out of pot. Remember, you still do not turn off the heat in this step.
- Add more milk cream into Mixture B and boil until this mixture becomes thick. Turn off the heat.
- When serving, scoop one tablespoon sweet soup into bowl, and then sprinkle sauce on the face of sweet soup. Caramel Sweet Soup with Banana Recipe is such an amazing feeling when you can use with your beloved family and friends.