Fried banana cake ( bánh chuối chiên ) is one of popular Vietnamese dessert recipes. Fried Banana cake is cooked by the method of frying, this delicious dish while still hot to brittleness.

Fried Banana Cakes recipe is easy to make, and commonly used from rural to urban, at home or are often sold at bars in pavement, restaurants.

Moreover, Fried Banana cake has just fried, soft, sweet desserts or eat in the cold temperature.
Ingredients:
- 12 banana ripening
- Wheat flour: 200gr
- Rice flour: 100g
- Flour: 100g
- Baking powder: 1 tablespoon
- One little yellow color
- Salt: 1/2 tablespoon
- Frying oil: 1/2 liters of
Process
- Flour, rice, flour: blend, floating on + salt + water were patented, flour steam lightning. Add little yellow color, to 1 hour for dough.
- Peel of the cover of banana, slice and mash them to thin.

- Boil oil on the stove until hot. This is an important step one for making one of Vietnamese Dessert recipes.
- Scoop toner into the bowl, gripping racing series on flour.

- Use tablespoon to scoop banana pieces, and add flour on a pan. Bananas are spread out to dry strawberry wine. Wait until their 2 faces turn yellow brown. Turn off the heat.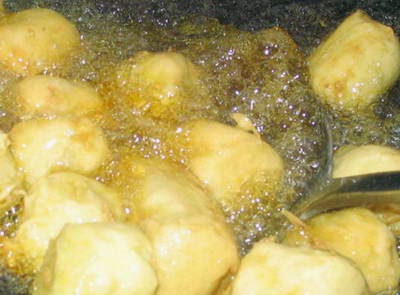 Now, you finished this delicious dessert. Let us put fried bananas and sauce on dishes, served with vanilla ice cream, fresh cream or yogurt. In rainy days, you should try this dish at least once time.
Put fried banana cakes on grill to reduce oil