I would like to introduce Hot Chocolate Smoothie (Sinh tố Chocolate Nóng) to all my love. It is my favorite dessert so far.
Ingredients
- Dark chocolate: 50g
- Cacao powder: 1 tablespoon
- Sugar: 1 teaspoon
- Fresh milk: 150ml
- Milk cream for decoration: 100ml whipping cream, 1 teaspoon sugar
- Caramel: 1 tablespoon
- Water: 2 tablespoons
- Some food color drops (pink)
Process
- Add cacao powder into small pot.
- Pour slowly fresh milk into pot, and then add more dark chocolate with sugar.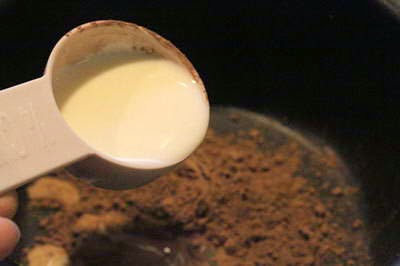 - Bring to cook with small heat.
- Sometime, you should use spoon to stir gently to make sure cacao powder and chocolate melted well. Turn off the heat.
- Making caramel: add sugar, water together in pot and bring to cook until sugar turns brown yellow, turn off the heat. Here is the important step to create one of amazing Vietnamese Dessert Recipes.
- Making milk cream: pour whipping cream into bowl, add more sugar and some pink food color drops, use whisk to mix in 10 minutes. Next, pour into nylon bag to decorate.
- Pour hot chocolate in step 3 into 2 glasses, press more milk cream on top.
- Finally, you pour a little caramel on top and serve when it is hot.