Let me suggest one of delicious and easy Vietnamese Dessert Recipes for you guys. It is called
Milk Egg Cocktail
(Cocktail Trứng Sữa).
The simply combination with milk, eggs, cinnamon and rhum wine will create a fantastic song in your mouth when tasting.
Ingredients
- 4 yolks
- Icing sugar: 40g
- Fresh milk (no sugar): 500ml
- Cinnamon flour: ½ teaspoon
- Vanilla starch: 1 teaspoon
- Rhum wine or any wine you love: 1 teaspoon
- Whipping cream and cherries
Process
- Stir yolks with icing sugar well until sugar is melted and color turn light yellow and soft.
- Mix fresh milk, cinnamon together, bring to cook until it start boiling. Turn off the heat immediately.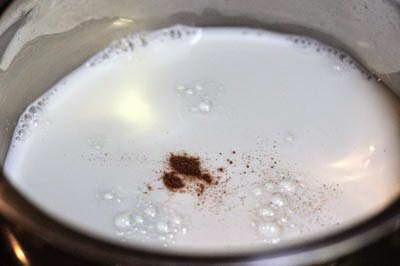 - Pour mixture in step 2 into mixture in step 1, do not stop stirring when pouring.
- Bring the mixture in step 3 to cook again with small heat. Stir gently by wood spoon until this mixture becomes thicker and has one layer on top. Do not cook too long, it will be spoiled. Turn off the heat and add vanilla starch, rhum wine into mixture egg, stir well. Wait to reduce heat and put in fridge.
- Pour this mixture into glasses, add more stirred whipping cream and cherries on top.
Hope you will have a great season greetings and Good luck for your cooking.