Pumpkin Cakes (Bánh Bí Ngô) is not only delicious, but also good for health. Let me introduce one of amazing Vietnamese Dessert Recipes from us to you guys.
Ingredients
- Whole milk: 200ml
- 1 can of pumpkin (or you can grind pumpkin by yourself at home)
- Brown sugar: 1 tablespoon
- White sugar: 1 tablespoon
- Butter: 200g
- Egg: 1
- Salt: 1 teaspoon
- Brown yeast: 30g
- All purposed flour: 500g
- Walnut seeds: 15 – 20
- Warm water.
Process
- Heat whole milk and then pour into bowl, add more melted butter, grinded pumpkin (300 – 350g), mix well.
- Next, add more brown yeast, 1 tablespoon white sugar, 1 tablespoon brown sugar, 1 teaspoon salt, 1 egg, ½ bowl of warm water, stir well and gently.
- After that, add more all purposed flour into this mixture, use wood spoon to mix well until it is smooth and soft.
- Cover the bowl by using nylon bag in 5 minutes.
- Then, knead this flour by your hands. Here is also the important step to create one of fantastic Vietnamese Dessert Recipes for your kids and family.
- And put into bowl, wait in 1 hour al least.
- Check by pressing your hand and flour does not stick on your skin, it is perfect.
- Use knife to cut flour into 2 equal parts and continue to slice equal small balls.
- Roll into circle shapes.
- Use hand to press super gently each flour ball.
- Use knife again to cut at least 6 lines around four balls.
- Use your little finger press one hole on the center and continue this step until you finish them all.
- Arrange flour balls on grilling tray spreaded a little butter. Brush stired yolk on top of balls.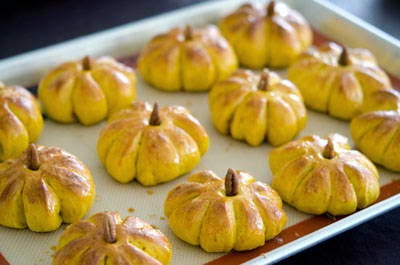 - Bring to grill at 200 celsius in 10 – 15 minutes. When they are cooked, press walter seed on each hole of pumpkin cake.
- Wait to reduce heat and put on jar to eat day by day.