Sweet Potato Sweet Soup (Chè Khoai Lang) bowl is served in cold days like these days is never better.
Ingredients
- Sweet potatoes: 2
- Stickly rice: ½ bowl
- Tapioca pearls: 1 tablespoon
- Sugar
- Coconut milk: 200ml
- ¼ mung bean, sugar, salt
Process
- Clean mung bean in few times, soak into warm water in 1 – 2 hours. Bring them to steam until they are soft.
- Making filling: Use spoon to smash mung bean well. Heat the oil, add mung bean with 2 – 3 tablespoons sugar and a little salt, cook with small heat, use wood spoon to fry in 10 – 12 minutes. Wait to reduce heat, use your hands to roll them into equal circle shapes.
- Clean sweet potatoes, use brush to brush gently their skins. Bring to steam until they are soft. Wait to reduce heat and peel off the cover, use spoon to smash it well. For saving time, you can put them into mircowave and grill in 4 – 5 mintues or until you think they are soft. Clean well tapioca pearls, soak in cold water.
- Pour slowly sticky rice into sweet potato mixture and use spoon to mix well. You also can use your hands to knead until they do not stick on hands anymore. Use food nylon to cover and wait for 20 minutes.
- After that, separate mixture flour in step 4 into equal circle shapes, press gently and add mung bean filling on the center, cover it well. Continue to roll until you finish all fillings. Here is the final step to prepare one of amazing Vietnamese Dessert Recipes.
- Heat the boil water, add tapioca pearl into pot and boil in 3 – 4 minutes. Put them on basket and wash immediately with cold water.
- Cook coconut milk with 3 tablespoons sugar until it boils. Add sweet potato balls in step 6 into pot and cook with small heat until sugar is absorb into balls.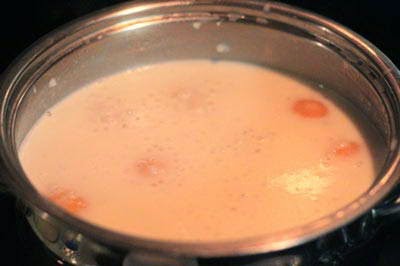 - Continue cooking 10 – 15 minutes and add more tapioca pearls, cook with small heat, season to suit your flavor. Cook until tapioca pearl flow on top, turn off the heat.