Do you love Dessert? Do you love Sweet Soup? Do not miss Vietnamese Taro Sweet Soup ( chè khoai môn cốt dừa ).

Taro sweet soup is one of my favorite Vietnamese Dessert Recipes. This dessert is for who loves the silky like creamy of taro pieces, the fragrant of coconut milk and sweetness of the small pearl tapiocas.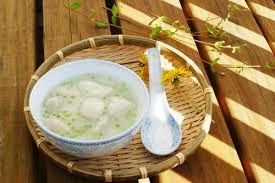 Ingredients

- Taro: 300 gr
- Dry Pearl Tapioca: 100 gr
- Sugars: 175 gr(should choose red sugar to have better color for sweet soup)
- Coconut milk: 1 box
- Water: 750 ml

Process

Soak dry pearl tapioca in water for 1 hour. Dry pearl tapioca will absorb water and expand. After soaking, pour water and drain.
Potatoes peeled and sliced ​​square. Steamed taro for 20 minutes until cooked.

Boil 750 ml of water, add sugar, and boil to dissolve. Next, add steamed potatoes on pot. Continue to stir until this one of delicious Vietnamese Dessert Recipes boiling again.

Boil until sugar absorbed into the potatoes, then add pearl tapioca on pot, stir and wait for the sweet soup boiling again, then turn off the stove.

You can grind a bit of pineapple leaves, and add in sweet soup for flavor.

Take down the pot to cool down, add the coconut milk and enjoy. It's will be more delicious when use in cold.
Finally, you have done one of stunning Vietnamese Dessert Recipes already. Vietnamese Taro Sweet Soup is also an attractive dessert, so Vietnamese always use this sweet soup for the main dessert in their party like birthdays party.