(Cháo Hột Vịt Lộn) - Balut Porridge comes from many delicious Vietnamese Dish Recipes.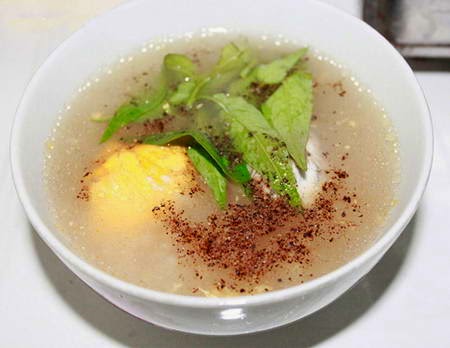 In Vietnam, Balut eggs are usually eaten with salt, lemon juice, plus ground pepper and Vietnaemse mint leaves. However, you can use it for cooking porrdige.
Ingredients
- Rice: 1 bowl
- Balut eggs (the quatity depends on you)
- Vietnamese mint
- Vegetable oil, salt, Maggi's stuff, pepper.
Process
- Roast rice on pan with small heat until they turn brown yellow and spread their fragrant. Turn off the heat.
- Next, pour roasted rice into pot, add more water (with proportion 1:3). Cook with small heat. Make sure you will not stop stirring when cooking. Cook about 30 minutes. When you see all rice are soft and bloom, it is cooked.
- Break in half live balut eggs into pot, add more oil + salt and maggi's stuff. Season to suit your flavor and turn off the heat. In this step, stir gently to make sure balut eggs will not be crushed.
- Add more vietnamese mint leaves and pepper on face. It is perfect when eating hot. Balut Porridge contains many energy for sick people. It can help them feel better when eating.