(Gỏi vịt) - Banana Flower Salad with Sliced Duck Breast is really easy for eating, especially you can use it when hot days .
The combination between Vegetables with Duck Meat will bring an amazing flavor in your mouth.
Ingredients
- Duck breast: 300g
- Sliced banana flower: 100gr
- Sliced carrots: 50gr
- Onion: 50 gr
- 1 big chilli
- Basil, Oyster sauce, Fish Sauce
- Salt, Soy sauce, Sugar, Pepper
- Cilantro
- Roasted peanuts.
Sweet and sour sauce ingredients
- Sugar: 100 gr
- Fish sauce: 1 Tablespoon
- Lemon juice: 3 teaspoon
- Minced garlic: 2 teaspoons
Making Dipping Sauce: Add sugar and fish sauce into the pan. Cook until this mixture become viscous. Next, add lemon juice into this mixture. Finally, add minced garlic into sauce.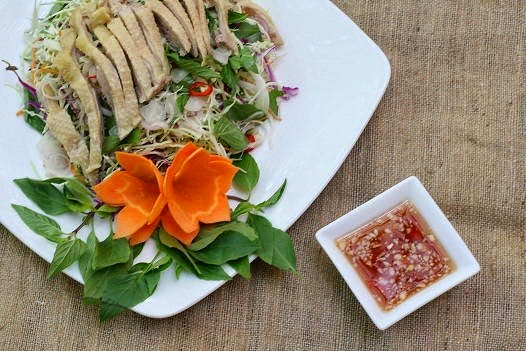 Process
- Marinate duck breast with oyster sauce, soy sauce, onion, salt, sugar, sauce, pepper. Then, mix them and waiting for 2 hours to infuse. The duck breast can boil, but the dish will be more delicious if you grill the duck breast. Because grilling will helpduck breast become gold and fragrant.
- Mix the duck breast, sliced banana flower, sliced carrots, sliced onion, chopped chilli and basil. Next, add sweet and sour sauce i
- Finally, Banana Flower Salad with Sliced Duck Breast is ready to serve. The combines colour of carrots, banana flower and basil which make this dish more wonderful. The beautiful colour will help you more satisfy when you enjoy the meal.