(Bánh Đúc Nước Cốt Dừa với Thịt Xay) - Bánh Đúc with Coconut Milk and Grinded Pork. This cake is the best cakes in Middle Area, Vietnam.
It made from non-glutinous rice flour or corn flour. It is white and has soft texture and milk flavor. You should eat it with Dipping Sauce.
Ingredients
* For Cake:
- Rice flour: 140gr
- Tapioca flour: 20gr
- Salt: 1 teaspoon
- Water: 350ml
- Coconut milk: 150 – 200ml
- Vegetable oil: 10ml
* For Filling:
- Grinded pork meat: 150gr
- Fresh shrimp: 100gr
- 1 -2 jelly's ear mushrooms
- 7 Shiitake mushrooms
- ½ Onion, peeled and slice small
- Fish sauce, pepper
- Vietnamese Mint, Scallion, Coriander
- Minced garlic, chili and purple onion.
* For Dipping Sauce:
1 bowl coconut juice + 1 tablespoon sugar + 1 tablespoon lemon juice + 1 – 2 tablespoons fish sauce + minced garlic and chili, mix them together, season to suit your flavor.
Process
- Clean shrimp, peel off the cover, chop into small pieces. Soak Jelly'ear mushrooms + shiitake mushrooms into cold water in 10 – 15 minutes. Cut off the root and slice small. Mix grinded pork + chopped shrimp + sliced jelly'ear mushoom + shiitake mushroom + sliced onion + 2 teaspoons fish sauce + 1 teaspoon pepper together. Wait about 15 – 20 minutes.
- Add oil on pan, wait to hot and pour minced garlic + purple onion, fry until it is fragrant. Next, bring mixture of pork pour into pan and fry about 5 – 7 minutes. Then, add minced chili + scallion and mix well.
- Mix rice flour + tapioca flour + salt + water + coconut milk + vegetable oi together. Stir well and wait about 20 minutes before bring to steam.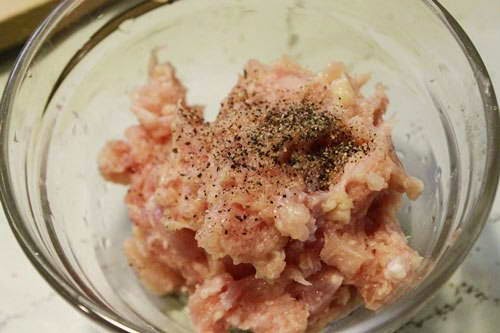 - Spread oil around mould. Scoop 1 spoon of mixture flour and pour into mould, bring to steam. Make sure your steaming pot is hot before steam flour. Wait about few minutes. When it is cooked, scoop another spoon and pour on mould again, repeat this step until mixture flour is out.
- Add mixture on face of flour, cove the pot and steam more 3 – 4 minutes. Remember, you should make sure that water will not run out when steaming.
- Slice cake into small pieces before using. Eating Bánh Đúc with Coconut Milk and Grinded Pork with Dipping sauce, vietnamese mint and fried pork skin is perfect. And If you love spicy, you can add more satay when eating. It will bring a stunning flavor in your mouth, especailly in cold days.