(Canh Giá Thịt Bò) - With simple ingredient from many delicious Vietnamese Cuisine. Today, I would like to introduce Bean Sprout Soup with Beef for all you guys.
Ingredients
- 200g beef
- 200g bean sprout
- 1 brand of ginger
- 3 cloves of garlic
- Spring onion, salt, pepper, chili powder, sugar.
Process
- Clean beef, wait to get dry, slice thinly.
- Marinate beef with minced garlic and ginger, 1 teaspoon salt and a little peper.
- Mix well and wait for 15 minutes.
- Clean well bean sprout, do not use the roots.
- Heat the oil, and bring beef to fry quickly 2 minutes with large heat.
- Pour more 3 – 4 bowls of water and cook until it boils. Sometime, use spoon to scoop away dirty bubble on top. Season to suit your flavor with sugar, salt, chili powder and pepper.
- Next, add more bean sprout, cook 1 minute and turn off the heat quickly.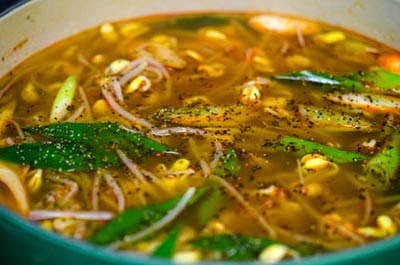 - Finally, Bean Sprout Soup with Beef is finished.