(Thịt Gà Kho Nấm) - Braised Chicken Meat with Mushroom is suitable in winter season. Using this dish with boiled rice is a good choice in cold days.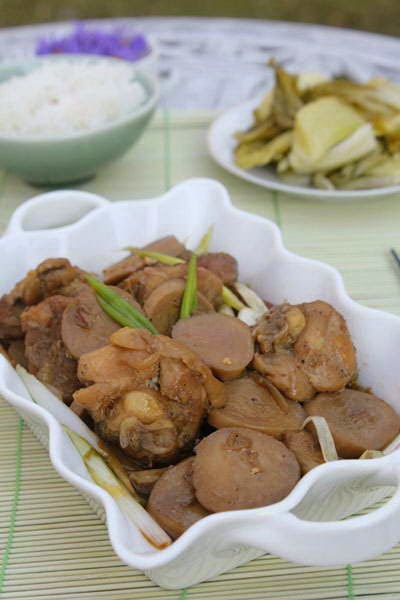 Ingredients
- Chicken legs: 3 – 4 (or ½ boiled chicken)
- Ginger; 1 clove
- 300gr shiitake mushroom/king oyster mushrooms
- ½ onion, dried purple onion, garlic
- Spices: Fish sauce, salt, sugar, pepper, Maggi's stuff and scallion
- Sugar syrup: 1 teaspoon
Process
- Use chicken skin or not, it depends on your flavor. Clean it; then chop into small pieces. Marinate with dried purple onion + minced garlic + 1 teaspoon salt + 1 teaspoon fish sauce + pepper, mix them together and wait about 2 hours.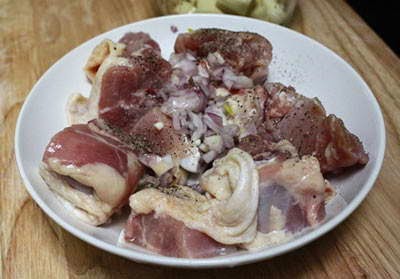 - Cut off the root of king oyster mushrooms, soak into cold water about 15 – 20 minutes.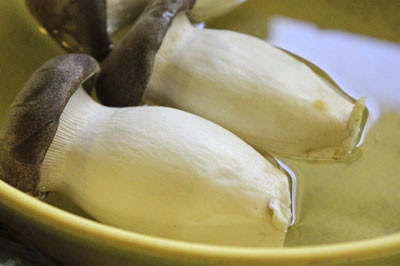 - Wait mushroom to dry. Slice the body of mushroom into circle shapes. Peel off the cover of ginger, slice thinly. Peel off the cover of onion, slice thinly into circle shapes.
- Pour oil into pan, wait to boil, add chopped chicken meat into pan; fry quickly about 5 minutes until chicken meat turns yellow. Put them on plate.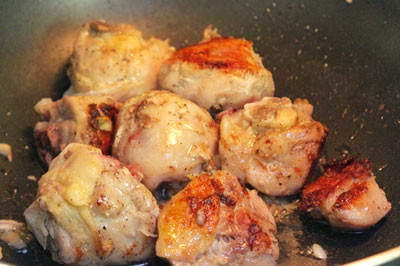 - Add more oil into pan; fry minced garlic + sliced purple onion until it is fragrant. Next, add more chicken meat + sliced garlic + onion + mushroom + 2 tablespoons fish sauce + salt + sugar/maggi's stuff + sugar syrup. Cover the pan, cook with large heat about 7 – 10 minutes. When it boils, add a little water into pan, cook with small heat and do not cover pan this time.
- Braise about 30 – 40 minutes, season again to suit your flavor. Turn off the heat, add more sliced scallion.
- Pour Braised Chicken Meat with Mushroom on plate; sprinkle a little pepper on face to increase its flavor. Using with boiled rice and hot soup will bring an amazing feeling for you.