(Cánh Gà Kho Hạt Dẻ) - Braised Chicken Wings with Chestnut comes from many stunning Vietnamese Cuisine.
Its flavor of course is really amazing. A little sliced ginger in this meal will make you feel warmer in these cold days.
Ingredients
- Chesnut: 600gr
- Chicken wings: 500gr
- Ginger, 1 tablespoon sugar suryp (melted sugar), garlic
- Spices: fish sauce, sugar, purple onion, pepper, salt.
Process
- Clean chesnut creafully, bring to grill about 5 minute at 160 degree until their covers crack. Peel off the cover, use knife to whittle a web outside. If chesnuts are big, cut in haft.
- Clean chicken wing with water added a little salt in 2 – 3 times. Chop into short pieces. Marinate with 1 teaspoon salt + pepper + sliced purple onion + sugar syrup, mix well and wait 1 hour. Peel off the cover of ginger, slice thin and long pieces.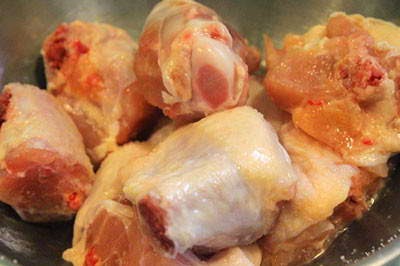 - Add oil on pan, wait to hot, add more minced garlic and fry until it is fragrant. Then, ad chicken wings, use chopsticks to fry 2 faces of meat until their color turn brown yellow. Next, add more sliced ginger into pan and fry quickly about 1 – 2 minutes, add 1 – 2 tablespoons water.
- Pour ½ tablespoon fish sauce into pan, use the small heat and cover it. Wait about 5 – 10 minutes, next add chesnut to cook with.
- Use small heat when cooking and do not open the lid. If water nearly runs out, add more into pan. Season again to suit your flavor. Turn off the heat.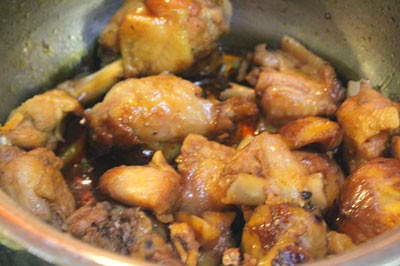 - Finally your dish is ready to serve. Before serving, sprinkle a little pepper on face of dish. Using Braised Chicken Wings with Chesnut with hot boiled rice is perfect on these days.