(Đầu Cá Kho Ớt Xanh) - Braised Fish Head with Chili is really tasty especially when eating with boiled rice or noodle.
Come from many delicious Vietnamese Cuisine, you cannot deny its stunning flavor from the first time of eating. This braised fish dish is not require much time and cooking skills, so when you are ready.
Ingredients
- 1 big fish head (mackerel or tuna fish is all delicious)
- 1 ginger
- 3 big green chili fruits
- Garlic, purple onion, fish sauce, sugar, Maggi's stuff, annatto seeds oil, salt, pepper, spring onion.
Process
- Slice fish head into medium pieces. Clean carefully and marinate with a little salt, wait in 15 – 20 minutes.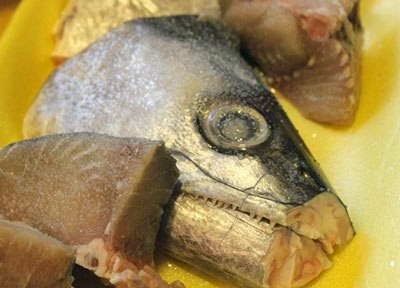 - Peel off the cover of ginger, garlic, purple onion, and grind them well.
- Clean green chili and slice small.
- So you should not neglect when cooking. Add sliced fish head into pot, pour more mixture in step 2 + 2 tablespoons fish sauce + 1 tablespoon sugar + sliced green chili + 1 teaspoon annatto seeds oil + ½ Maggi's stuff, mix well and wait in 1 – 2 hours. Then, bring to cooking stove and cook in 15 minutes with small heat.
- Pour slowly boiled water into pot (2 – 3 bowls), cook in small heat. Sometime shake gently to make sure all spices absorb into fish slices.
- Cook until fish is soft and the broth is nearly run out. Season again to suit your flavor. If you love spicy, you can add more sliced green chili in. Cook more 5 minutes and turn off the heat.
- Before eat Braised Fish Head with Chili, sprinkle a little sliced spring onion and pepper on face of dish to increase the flavor.