(Thịt Ba Chỉ Kho Măng) - Braised Pork Meat with Bamboo Shoot comes from many amazing Vietnamese Cuisine.
Serving with boiled rice or vermicelli is all delicious. Here is also the favorite dish of my granddad when we have a death anniversary. He usually made it for our dish.
Ingredients
- 300g pork meat (half lean half fat pork meat)
- 200g bamboo shoot (soaked in vinegar)
- 1 small purple onion
- 1 small brand of garlic
- Hot water
- Spices: caramel sugar, sugar, Magi's stuff, fish sauce
Process
- Peel off the cover and mince well garlic + purple onion, mix them with a little hot water. Filter to get smooth water
- Clean and slice pork meat into medium pieces, marinate with 1 teaspoon Magi's stuff, 2 tablespoons fish sauce, 1 teaspoon sugar, mixture water, 1 tablespoon caramel sugar, mix well and wait in 30 minutes.
- Clean and slice bamboo shoots into square shapes.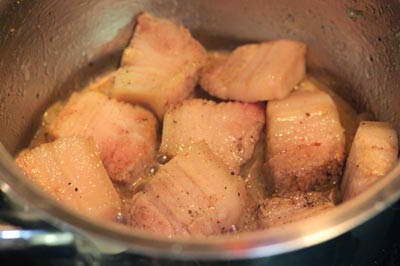 - Heat 1 teaspoon, add sliced purple onion and fry until it is fragrant. Pour all mixture pork into clay pot and fry until meat is nearly cooked.
- Next, add more hot water (2 – 3 tablespoons) and bamboo shoot. Cook in 20 minutes with small heat. Season again to suit your flavor, when the broth is nearly ran out, turn off the heat.
- Sprinkle more spiced spring onion and pepper on face of Braised Pork Meat with Bamboo Shoot to increase its flavor.