(Bao tử khìa nước dừa) - Braised Pork Stomach with Coconut Juice. Instead of using water, you can use coconut juice to cook one of amazing Vietnamese Pork Recipes.
Eating this dish will soy sauce added sliced chili will bring a stunning flavor in your mouth, especially in cold days. It can become your snack meal as well.
Ingredience
- Pork stomach: 1
- Spices: salt, fish sauce, sugar, pepper, Maggi's stuff.
- Multi flavor flour (Ngũ Vị Hương) – You can buy at Vietnamese Markets
- Dried purple onion, vinegar
- 1 Coconut Fruit
- Soy sauce, chili, tomato, bread.
Process
- Clean carefully pork stomach with water added a little salt in 2 – 3 times. Cut off fat part inside of stomach. Clean inside carefully with water added a little salt as well. Next, marinate with 1 tablespoon fish sauce + a little vinegar, wait about 30 minutes.
- Put stomach on basket, use your hands to press until they are out slimy (inside of stomach), clean again. Mince dried purple onion, next marinate stomach with it + ½ teaspoon multi flavor flour + 1 teaspoon salt, mix well and wait more 30 minutes.
- Chop coconut fruit to get coconut juice.
- So please make sure you still concentrate on our instructions. Put pan on cooking stove, add oil and wait to hot. Next, add more minced garlic and fry until it is fragrant. Then, put stomach into pan, fry about 5 – 7 minutes. Remember always change their faces when frying. Next, pour coconut juice to fill stomaches.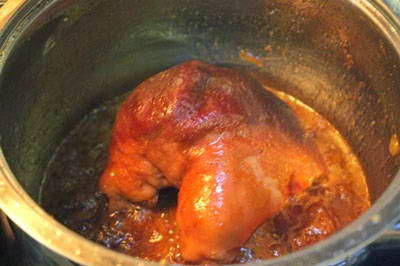 - Cook with small heat until coconut juice is thick. Season again to suit your flavor. And fry continue until stomach turn yellow. Turn off th heat.
- Before using Braised Pork Stomach with Coconut Juice, slice stomache into medium pieces, sprinkle a little pepper on face of dish. Eating with soy sauce added sliced chili, tomato and bread is amazing.