(Tôm Kho Trứng Cút) - Braised Shrimps with Quail Eggs, eating with boiled rice and hot soup as I usually introduce is the great way. The combination between shrimps and quail eggs is delicious as the traditional braised pork chop with eggs.
Ingredients
- Silver shrimps: 300g (which lives in rivers, not seas)
- Quail eggs: 10 – 12
- Salt, sugar, annatto seed oil, Asian coriander, spring onion, fish sauce and purple onion.
Process
- Peel off the cover of shrimps, pull out the black line on their backs. Clean into water added a little salt and clean again in fresh water. Wait to dry. Marinate with 1 teaspoon salt + ½ teaspoon pepper. Mix well and wait in 30 minutes.
- Boil quail eggs in 20 – 30 minutes. Soak into cold water and peel off their cover.
- This is the first step to create one of delicious Vietnamese Dish Recipes. Heat the annatto seed oil (2 – 3 teaspoons), fry minced purple onion until it is fragrant. Add more shrimps into pan and fry quickly in 3 – 4 minutes. Season with 1 tablespoon fish sauce + 1 tablespoon sugar + 1 tablespoon coconut juice and stir well. Cook until it boils and reduce the heat into small. Continue to cook in 5 minutes.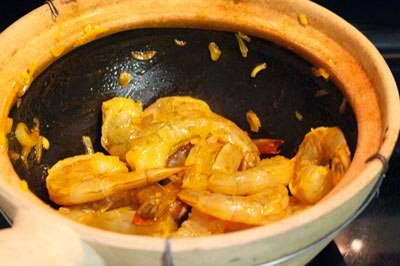 - Next, pour quail eggs into pan and stir gently. Continue to cook. Season again to suit your flavor. If you love spicy, you can add 2 – 3 teaspoons chili powder in this step. If water is nearly run out, you should pour more hot water, but not too much.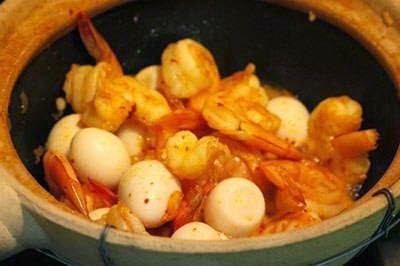 - Cook until shrimps, quail egg and the sauce is thick, turn off the heat.
- Finally, Braised Shrimps with Quail Egg is ready to serve. Before eating, sprinkle a little sliced spring onion, Asian coriander on face.