(Chè Nếp Cẩm và Khoai Sọ) - Cẩm Sticky Rice Sweet Soup with Taro originally comes from many amazing Vietnamese Dessert Recipes.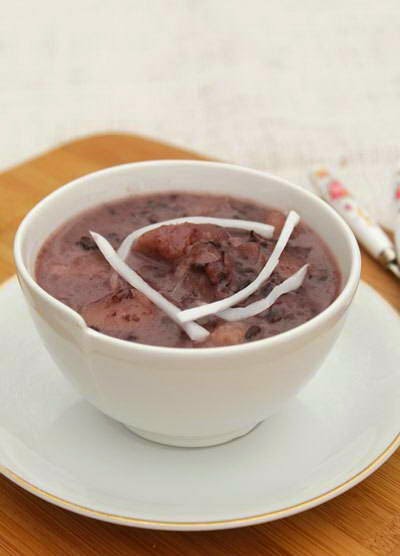 The combination between taro and sticky rice will create one stunning dish for your dessert meal.
Ingredients
- ½ bowl violet sticky rice (Nếp Than) – buy at Vietnamese Markets
- 3 – 4 taro
- 200ml coconut milk
- Sugar (depend on your flavor)
- 1 small vanilla tube
- Salt, sliced coconut meat.
Process
- Clean violet sticky rice in 2 – 3 times. Next, soak in cold water through 1 night with a little salt.
- Peel off the cover of taro, clean and soak in water added a little salt in 1 hour. Next, slice into small cubes.
- Add violet sticky rice into pot, pour more water. Make sure it can cover all face of sticky rice. Cook until it is soft.
- Add more sliced taro + ½ tablespoon sugar into pot. Cook with small heat. Sometime use spoon to stir well to make sure sticky rice will not be stuck on the bottom. Cook in 15 - 20 minutes.
- Then, pour slowly coconut milk into pot. Do not stop stirring until it is thick. Season again with sugar to suit your flavor.
- Cook more 5 minutes and turn off the heat. Add more vanilla into pot. Stir gently.
- Finally, you can serve Cẩm Sticky Rice Sweet Soup with Taro for your family right now. Scoop into small bowl, add more sliced coconut meat and enjoy it. Using when it is hot or cold is all delicious.