(Canh Xoài Xanh Thịt Bò) - Green Mango and Beef Soup is known as one of stunning Vietnamese Cuisine.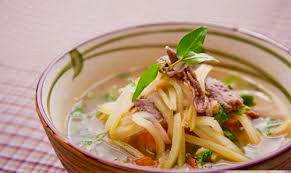 The combination if green mango which have a sour taste and beef, bring the strange taste but strongly delicious and attractive to anyone who want a new and original dish. And many Vietnamese young people fall in love with it.
Ingredients
- 100-150g beef, slice ​​thinly.
- 1 tablespoon fish sauce
- 1/4 teaspoon pepper
- 1/2 teaspoon sugar
- 2 cloves of minced garlic
- 1 green mango
- 1 large tomato, cut into 6 pieces
- Vegetable oil
- 10gr Vietnamese mint, cleaned and sliced small
- Maggi's stuff.
Process
- Marinate beef with fish sauce, pepper, sugar, minced garlic.
- Peel off the cover of Green Mango, slice small and thinly.
- Put the oil in the pan, when oil is hot, add beef and tomato and fry until beef just cooked, and then lay all on bowl.
- Add 3 - 4 bowls to the pot; boil, and then add beef (in step 3) and green mango into. When the water is boiling again, add 1/2 sliced Vietnamese mint, some maggi's stuff to suit your taste.
- Finally, you are ready to serve Green Mango with Beef Soup for your family meal. Before using, sprinkle a little pepper and remaining Vietnamese mints to the surface.