(Gà Nấu Húng Quế) - Chicken Soup with Basil Leaves. It is not only delicious, but also really easy. It will not cost much time in cooking.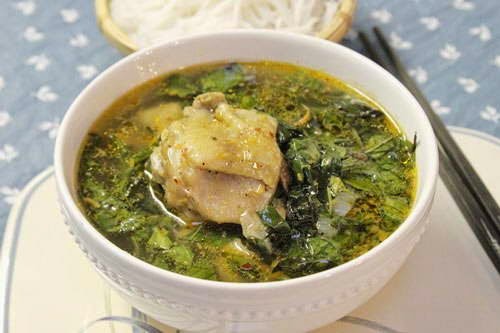 When enjoy this dish with vermicelli, it will increase the flavor from basil leaves, lemongrass and chicken.
Ingredients
- ½ chicken or 2 – 3 chicken thighs
- 1 bunch basil (as much as better)
- 1 tablespoon minced lemongrass
- 1 teaspoon chilie powder
- Purple onion, garlic, 2 – 3 alum sugar balls (đường phèn) – buy at vietnamese markets
- Spices: salt, sugar, fish sauce, pepper
- Vermicelli.
Process
- Clean chicken meat, then chop into small pieces. Marinate with sliced purple onion + pepper + 1 teaspoon salt + 2 teaspoons fish sauce. Mix well and wait about 1 – 2 hours.
- Only use basil leaves. Clean carefully with water added a little salt in 2 – 3 times. Wait to dry and slice small.
- Heat to oil, add minced garlic and fry until it is fragrant. Then, add more chili powder and minced lemongrass and fry more 2 – 3 minutes.
- Next, add more chopped chicken meat into pot and fry in 5 – 8 minutes.
- Pour more water to cover all meat. Next, add more alum sugar balls and cook until it boils, chicken meat is soft. Season to suit your flavor.
- Finally, Chicken Soup with Basil Leaves is ready to serve.
- Before serving, add sliced basil leaves and scoop into big bowl.