(Tôm Chiên Giòn) - Deep Fried Prawns with onen special sauce. Its sauce for marinate prawn is the key to create this stunning dish. You guys can serve more with vegetables and vermicelli.
Ingredients
- 12 big prawns
- Spring onion: 10g
- Wheat flour: 15g
- Wonton leaves (20 – 30 leaves)
- Making sauce:
- Chili sauce: 45ml
- Soy sauce: 15ml
- Rice vinegar: 7ml
- Sesame oil: 5ml
- 3 cloves of garlic
- ½ lime
- Salt, pepper, sugar
Process
- Mix chili sauce, soy sauce, rice vinegar, sesame oil together.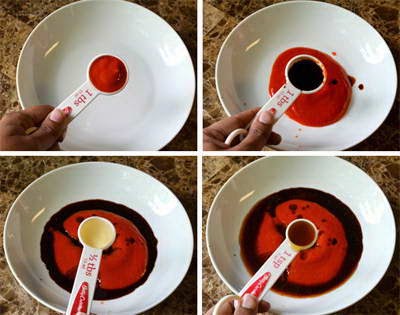 - Peel off the cover of garlic and grind well. Add into sauce.
- Next, smooth the cover of lime, put into sauce and press more lime juice as well.
- Add more salt and pepper to create its specific flavor for your sauce.
- Add more sugar and stir well. Add prawns into this sauce and wait for 20 – 40 minutes. Prawns will be more delicious if you marinate longer.
- Lay wonton leaf on wood board, cut like photo below and then put one prawn and roll carefully.
- When you roll to the middle, fold one edge and continue rolling. In the end, spread a little mixture wheat flour + water to make wonton leaf stick together.
- Continue to finish rolling all prawns.
- Heat the oil (make sure it will cover all prawns when frying). Add prawns into pot and fry until they turn brown yellow. Put on plate added paper napkin to absorb wasted oil.
- Finally, you just finished Deep Fried Prawns. Serving with sour and sweet sauce is more delicious.