(Bánh Flan Phô Mai và Gừng) - Flan Custard with Cheese and Ginger is quite difficult for making but you will create a stunning dessert for your family and especially for kids.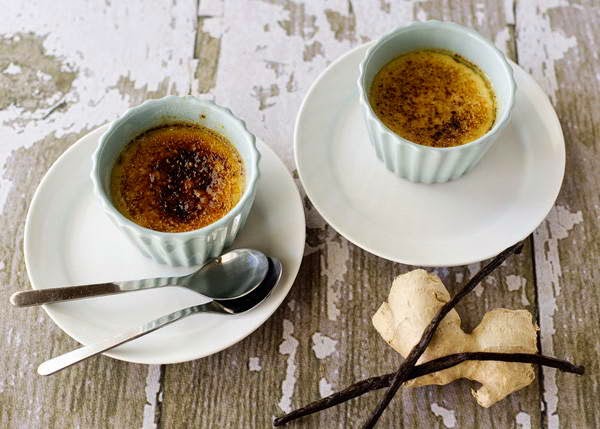 Ingredients
- Heavy cream: 470ml
- Cheese mascarpone: 120g
- Grinded ginger: 45g
- Vanilla starch: 5g
- 6 yolks
- Brown sugar: 80g
- White sugar: 60g
Process
- Mix heavy cream + cheese + vanilla together, pour into pot and cook with large heat until it boils.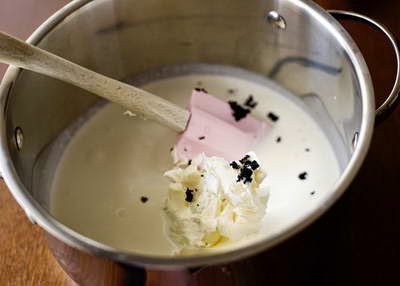 - Turn off the heat and continue to stir well until this mixture becomes soft. Next, add more grinded ginger into pot.
- Pour this mixture into glass and put in fridge in few hours or 1 night.
- Add yolks and brown sugar into big bowl.
- Stir well until yolks turns light yellow color and thick.
- After one night, filter the mixture in step 3 to create one of stunning
Vietnamese Dessert Recipes
. This step helps we have smooth face for flan custard.
- Pour slowly mixture eggs in step 5 into mixture in step 6. Next, stir well.
- Arrange grilling pattern into tray and pour mixture in step 7 into each pattern. Do not pour full pattern because it will blow when grilling.
- Pour hot water into ½ tray.
- Turn on the grilling stove firstly in 10 minutes at 150 degree. Next, put patterns into and grill in 20 minutes. This mixture has a medium thickness. You should grill more 5 minutes if it is still not thick like what we required.
- Sprinkle icing sugar one face. Use fire machine to heat the face of flan custard until it turns brown color. Wait in 1 minute and your dessert is finished.
(If you do not have fire machine, you can mix 6g coffee flour + hot water + sugar and pour one face of flan custard)
Finally, you just finished one of amazing Vietnamese Dessert Recipes for your family. Flan Custard with Cheese and Ginger is really suitable if you have a party in weekend.