(Thịt Gà Chiên Sữa Tươi) - Fried Chicken with Fresh Milk comes from many stunning Vietnamese Cuisine.
Fried Chicken with Fresh Milk is really suitable for party in weekends of your family. I bet your kids will love it.
Ingredients
- Chicken wings (depends on how many people in your meal)
- Spices to marinate chicken wings: Fresh milk, minced garlic, pepper, salt
- Wheat flour, corn starch; curry flour.
- Sauce: minced garlic + purple onion, ketchup, sugar, honey, soy sauce.
Process
- Marinate chicken wings with all spices you prepared. Wait about 10 – 15 minutes.
- Mix all flours to make the cover for chicken wings in big nylon. Proportion of wheat flour and corn starch with 1:1
- Get chicken wings on plate and wait to dry. Next, pour into nylon, shake well until all flours cover chicken.
- Add 4 – 5 tablespoons oil into pan, wait to hot. Add chicken wings into and fry. You should fry in 2 times. Because it can help these chicken wings crispier. After fry in the first time, wait about 10 minutes and then bring to fry again until they turn brown yellow.
- Use another pan, add a little oil; wait to oil. Then, add minced garlic + purple onion and fry until they are fragrant. Next, pour ketchup + sugar + honey + soy sauce into pan and fry in 1 minute.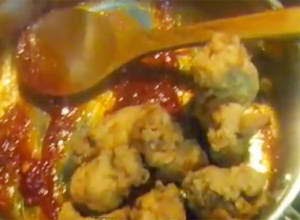 - Pour fried chicken wings in mixture, cook with medium heat in 1 minute and turn off the heat.
- Finally, your dish is ready to serve. Eating it like a snack or using with boiled rice is all delicious. If you love roasted peanut, you can sprinkle a little around chicken wings. It can increase the flavor of Fried Chicken with Fresh Milk.