(Thịt Gà Chiên Xù) - You can use Fried Chicken with Panko Bread Crumb with boiled rice and hot soup.
You can enjoy only it with chili sauce. Its flavor is still amazing. The crispy chicken meat is one of important points make you cannot forget from the first time eating.
Ingredients
- 300gr Chicken meat (No bones)
- 1 egg, 1 bowl of Panko Bread Crumb
- 1 bowl of corn flour
- Spices: Salt, pepper, Maggi's stuff, vegetable oil.
Process
- Clean chicken meat, slice into medium pieces. Use small axe to make them softer. Next, marinate with salt + pepper + maggi's stuff, wait about 1 hour.
-: Prepare 3 bowl: 1 bowl stirred egg, 1 bowl corn flour, 1 bowl panko bread crumb.
- One by one, soak every single chicken meat from corn flour, stirred egg and finally is panko bread crumb. Continue until all chicken pieces are covered.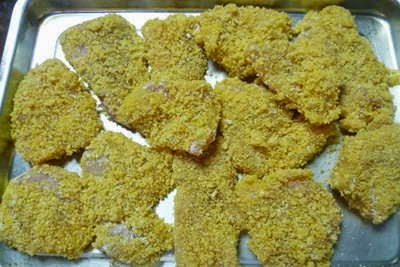 - Pour oil (enough to cover all chicken meat when frying). Wait to heat, put all chicken meat all and fry until their color turn yellow (about 5 – 7 mintues). Turn off the heat, put them on plate added paper napkin to absorb all wasted oil.
- Using Fried Chicken with Panko Bread Crumb with chili sauce or boiled rice is perfect all.