(Cà Tím Tay Cầm) -
Fried Eggplant with Pork Meat
is cook into clay pot always bring an amazing feeling for anyone has a chance to taste it.
This dish originally comes form many spectacular
Vietnamese Cuisine
. Soft sliced eggplant and sweet pork meat are the great combination in cold days, especially when it is hot.
Ingredients
- 1 long eggplant
- 200gr grinded pork
- 1 clove ginger
- 40gr salty radish – Buy at Vietnamese Markets
- Scallion, chili powder
- Spices: salt, oyster oil, purplr onion, Maggi's stuff, sugar, vegetable oil, pepper, garlic.
Process
- Clean eggplant, cut into short parts, soak into cold water added a little salt in 15 minutes.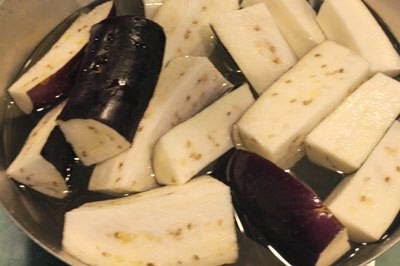 - Pour grinded pork on bowl, marinate with 1 teaspoon salt + pepper, mix well and wait about 20 minutes.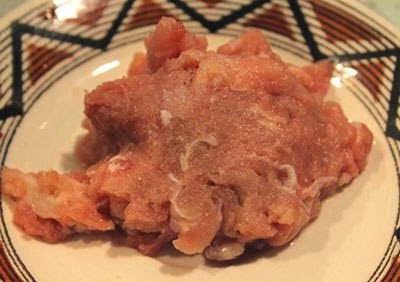 - Clean salty radish, slice into small and long pieces. Clean scallion, slice the white parts small and slice the green parts into short parts. Peel of the cover of garlic + purple onion + ginger. Mince garlic, slice purple onion + ginger into fibers.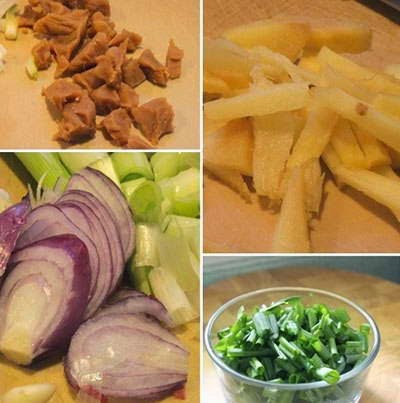 - Put pan on cooking stove, add oil, wait to hot, next add mince garlic + sliced white parts of scallion + purple onion and fry until it is fragrant. Then, add more grinded pork and fry quickly about 5 – 7 minutes.
- Next, add sliced salty rasish into pan, fry well. Then, add sliced eggplant and cover pan, wait about 5 – 7 minutes. Season with oyster oil + salt + Maggi's stuff + sugar + chili powder to suit your flavor. If you love spicy, you can add more chili powder if you want. Then, cover the pan again and wait about 3 – 4 minutes.
- Sometime, pour a little water into pan, cook to boil, taste again and turn off the heat.
- Finally, your dish is ready to serve. Sprinkle sliced scallion and pepper on face of dish. Using Fried Eggplant with Pork Meat with boiled rice is perfect in these days.