(Trứng Bọc Thịt Sốt Cà Chua) - Fried Pork in Egg with Tomato Sauce comes from many amazing Vietnamese Cuisine.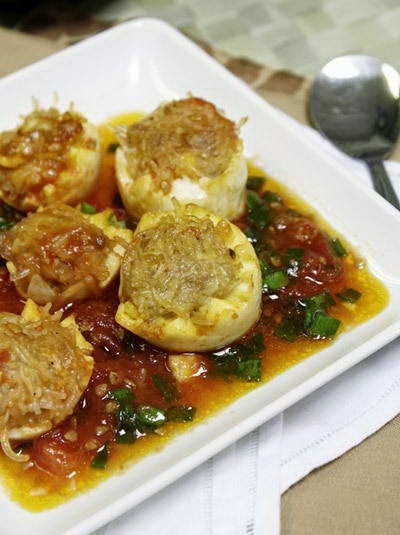 The combination between pork with cassava vermicelli, tomato sauce and egg will create a fantastic song in your mouth.
Ingredients
- 3 – 4 chicken eggs or duck eggs
- 150g grinded pork
- 10g dried cassava vermicelli
- 2 tomatoes
- Salt, fish sauce, sugar
- Spring onion, garlic, purple onion
Process
- Soak cassava vermicelli in cold water until it is soft.
- Marinate grinded pork with a little salt, pepper and sliced purple onion.
- Boil eggs until they are cooked. Use knife to cut in half. You can use a special knife to cut like photo below.
- Clean and slice small tomatoes.
- Scoop the yolk from boiled eggs and put into mixture grinded pork + minced cassava vermicelli. Mix well.
- Use spoon to scoop one by one mixture into the center of each white part of eggs.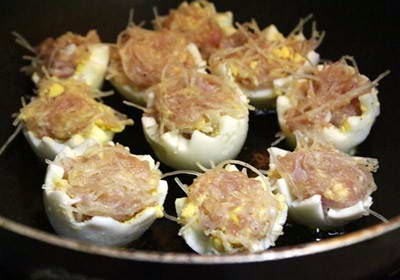 - Heat 3 teaspoons oil, add minced garlic and fry until it is fragrant. Next, add more tomatoes + a little salt and fry until it is soft. Pour on bowl.
- Use that pan again, heat 2 teaspoons oil and add all sliced eggs into pan.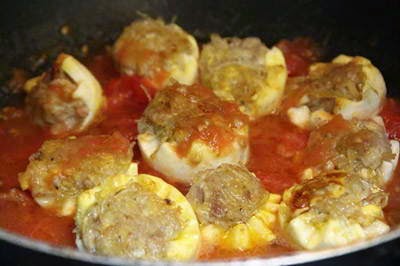 - Fry well the bottom of eggs. Then, change their faces and continue to fry until their color turn brown yellow.
- Pour slowly tomato sauce into pan too, season with 2 teaspoons fish sauce, 2 teaspoons sugar, 1 teaspoon salt and taste again to suit your flavor. Cover the pan and cook with small heat in 15 – 20 minutes.
- Finally, you finished Fried Pork in Egg with Tomato Sauce.