(Khoai Tây Chiên Phô Mai) - Fried Potato Balls with Cheese Filling comes from many delicious Vietnamese Cuisine.
Serving with orange juice for snack meal is perfect. You can use cute animal forks to decorate your dish.
Ingredients
1 – 2 potatoes (medium size)
300g grinded pork
1 – 2 sticks of mozzarella cheese or parmesan cheese
Salt, pepper, sugar, purple onion
2 yolks
2 tablespoons wheat flour
½ bowl bread crumb
Process
- Peel off the cover of potatoes; soak in cold water added a little salt in 15 minutes. Wait to get dry and bring to steam until they are cooked.
- Steam in 15 – 20 minutes, use spoon to smash well and mix with a little salt. Wait to get cold.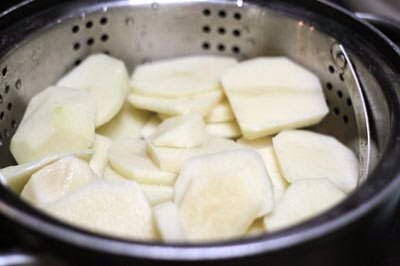 - Mix potato with grinded pork, 1 teaspoon salt, 1 teaspoon sugar, 1 little pepper, sliced purple onion together. Put in fridge about 30 minutes before bring to fry.
- Slice cheese into small balls.
- Use spoon to scoop a little mixture potato in step 3, put on your hand and press gently.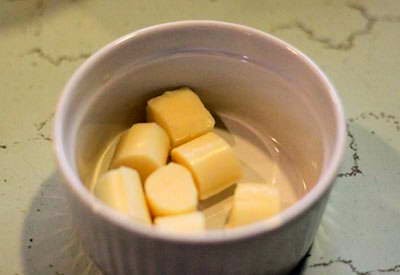 - Put each cheese ball on the center of potato, roll well. Here is the final step to create one of stunning Vietnamese Food Culture.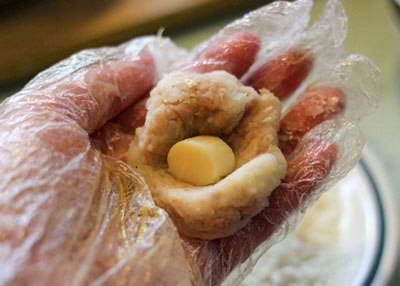 - Roll these balls in step 6 in wheat flour bowl.
- Continue to roll through stirred yolk.
-Then, roll through bread crumb, make sure this flour will cover all face of balls.
- Repeat all steps above for all potato balls left.
- Heat the oil (make sure it will cover all potato balls), fry them until they turn brown yellow.
- Finally, put all potato balls on plate added paper napkin to absorb wasted oil.
Serving Fried Potato Balls with Cheese Filling with boiled rice or chili sauce and ketchup is all delicious. Decorate with cute animal forks is really eye-catching.