(Cơm chiên Cua và Ngô) - Fried Rice with Crab Meat and Corn can be a great dish for your family meal.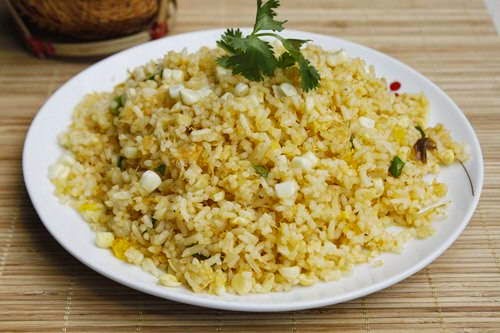 The combination between crab meat, corn and rice will create a spectacular flavor in your mouth when chewing.
Ingredients
- 1 big fresh crab (500g – 600g)
- 1 fresh corn, you can use green beans if you want – only use corn seed, cleaned and boiled
- 1 yolk from salty egg
- 1 – 2 chicken eggs
- 1 bowl boiled rice
- Spices: salt, pork/chicken broth mix, purple onion, spring onion, pepper, fish sauce and annatto seed oil.
Process
- Clean crab carefully in 2 – 3 times. Next, add crab into pot, use lid to cover and cook in small heat until crab is cooked. Put on plate; wait to get cold and separate cover and meat crab. We only use meat and crab egg for one of stunning Vietnamese Cuisine like this one.
- Heat the annatto seed oil (2 – 3 teaspoons), fry sliced purple onion until it is fragrant. Add more meat and egg crab into pan and fry quickly. Season with 1 teaspoon fish sauce + 1 teaspoon salt and a little pepper, stir well.
- Next, add more boiled corn seeds and yolk of salty egg and fry until corn is soft like you want.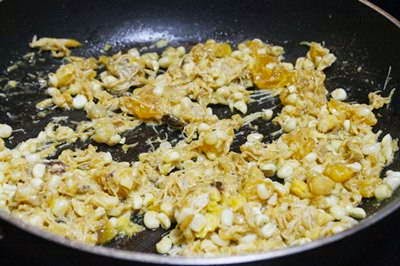 - Then, add boiled rice into pan, use a big spoon to stir well. Make sure corn, yolk; meat and egg crab will combine together with rice. Stir well chicken eggs and pour slowly into pan, stir well and season again to suit your flavor.
- From my experience, when frying rice, you should use small heat to fry. Before serving Fried Rice with Crab Meat and Corn, sprinkle sliced spring onion and pepper on face.