(Cơm Rang Dứa) - Fried Rice with Pineapple. Pineapples are nourish foods contain a lot vitamin C, which is very good for the body.
Ingredients
- Rice: 300gr
- 1/3 ripe pineapple, slice into small cubes.
- 1 tomato, seeded and diced.
- 1/2 small onions, diced
- 40g raisins, soaked in warm water to get it soft.
- Vegetable Oil
- Sauce, maggi's stuff.
Process
- Heat oil in large pan, fried onions until fragrant. Next, clean rice 3 time, and bring to cook.
- Add little oil in a frying pan, fry boiled rice, stir well. Fry for 5 minutes, and then add raisins, tomatoes, onion, and pineapple to fry together with boiled rice. Now, add sauce and maggi's stuff to suit your taste.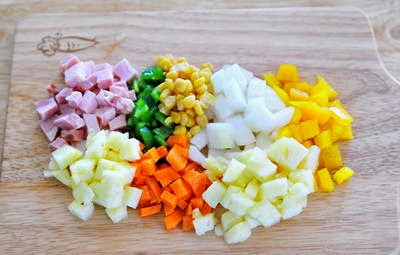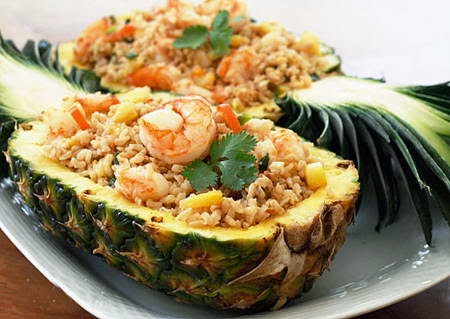 - Continue to fry until boiled rice is fragrant and cooked. After that, turn off the stove, lay everything on dish. Serve with sliced cilantro.
- You can enjoy Fried Rice with Pineapple after the main meals.