(Cơm chiên hải sản) - Fried Rice with Vegetable and Seafood. With a little chance from fried rice, you will create one of stunning Vietnamese Dish Recipes.
You can decorate this dish into Christmas tree before serving. Eating this dish with hot soup in the special night will help the relationship in your family warmer and closer.
Ingredients
- Boiled rice: 1 big bowl
- Carrot: 1
- Eggs: 3
- Fresh shrimps: 300gr
- 1 -2 fresh corns
- 1 big slice Vietnamese Ham (Giò Lụa) – Buy at Vietnamese Markets
- Spices: Salt, sugar, pepper, garlic, scallion, Maggi's stuff
- Green peas (optional): 50gr
- Clean nylon bag.
Process
- Peel off the cover of corns, clean and separate seeds and core. Bring corn seeds to boil with hot water about 10 minutes. Slice Vietnamese Ham into small cubes. Peel off the cover of carrot, clean and slice into cubes. Then, soak sliced carrot into hot water about 5 – 6 minutes and wait to dry. Clean scallion, slice small.
- Add egg on bowl, use chopsticks or spoon to stir well. Then, add more 1 teaspoon salt + Maggi's stuff + sliced scallion and mix well. Use 2/3 egg mixture to fry with boiled rice. 1/3 left, you bring to fry thinly, then use star shape to cut for decorating.
- Peel off the cover of shrimps, pull out the black line, clean carefully and smash it. Put pan on cooking stove, add oil; wait to hot and add more minced garlic and fry until it is fragrant. Next, pour shrimp into pan and fry quickly about 3 – 5 minutes. Put on bowl.
- Use again that pan, add more oil, wait to hot and pour sliced carrot and fry, season with a little salt, Maggi's stuff to suit your flavor, you can fry about 5 – 8 minutes.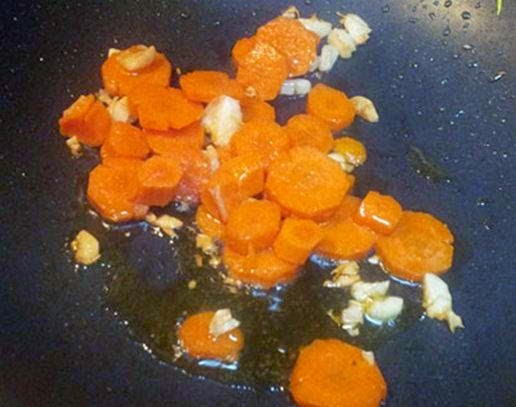 - Next, pour more boiled corn + sliced Vietnamese Ham into pan and fry together with small heat.
- Fry until all stuffs become soft, add more shrimp + sliced scallion to fry and season again to suit your flavor. You can use fish sauce instead of Maggi's stuff to increase its flavor. Turn off the heat, pour this mixture on bowl.
- Put pan on cooking stove again, add oil, wait to hot, add more minced garlic and fry until it is fragrant. Then, add boiled rice into pan and fry with small heat about 10 minutes. Next, pour 2/3 egg mixture together and fry quickly to make sure rice will not stick together.
- Mix mixture into pan, stir and season finally to suit your flavor.
- Wait until fried rice get cool, pour it into nylon bag, use your hand to press it firmly (like photo below) to make sure its shape likes pyramid.
- Cut carrot,
Vietnamese Ham and fried egg
left into any shape you love for Christmas.
- Use scissors to cut off nylon bag, put fried rice on plate. And decorate all shape you have (in step 10) around Christmas Tree Rice. You can use toothpick to stick them into fried rice.