(Tôm xào nấm đậu) - Fried Shrimp with Mushrooms and Peas. Simple stir-fries served with steamed rice, mushrooms, and peas crispy fried with fresh shrimp.
Gredients
- Shrimp: 200 gr
- Peas: 200 gr
- Straw mushroom: 200 gr
- Onion, salt, fish sauce, maggi's stuff, pepper.
Process
- Straw Mushrooms cut legs, washed with diluted salt water, put on basket to drain.
- Peas stripped of pea's fiber, rinse.
- Onion washed, chopped.
- Peeled shrimp cover, take out dirty part of shrimp to clean, grind well.
- Heat two teaspoons of cooking oil, fried garlic until fragrant, add grind shrimp to stir-fry.
- With one of stunning Vietnamese Dish Recipes, this step is the most important one for cooking this dish more delicious: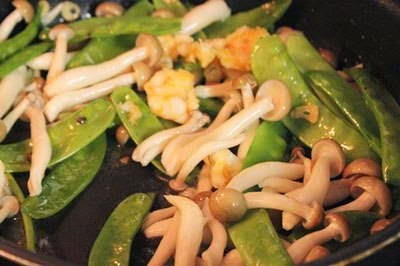 - Quickly fried beans, set high heat, stir-fry about 3 minutes, add mushrooms and fry them together, season a teaspoon of salt, a teaspoon of fish sauce, half a teaspoon of maggi's stuff, stir well.
- Stir fry for 7-10 minutes, tasting, depending on your taste, turn off the heat, sprinkle a little pepper and green onion chopped. Lay those on plate used this dish with steamed rice.