(Bánh Tôm Khoai Lang Chiên) - Fried Sweet Potato with Shrimp Cake originally comes from many delicious Vietnamese Food Recipes.
Fried Sweet Potato with Shrimp Cake is also one of best street food ever in Ho Chi Minh City. Many young Vietnamese fall in love with it. This dish usually use with vegetables and dipping sauce for eating. It is such a great combination, especially in cold days.
Ingredients
- Bread crumb: 350 gr
- Sweet potatoes: 700 gr
- Fresh shrimps (medium size): 35gr
- Salt
- Saffron Flour
- Vegetables
- Sweet and Sour Sauce (Follow the instruction below).
Process
- Peel off the cover of sweet potatoes. Slice into long and thin pieces (5cm length).
- Cut off the heads + tails + legs of shrimps. Pull out the black lines. Next, rub salt and clean carefully. Wait to dry.
- Pour bread crumb into big bowl with ¼ teaspoon salt + ¾ teaspoon saffron flour. Then, mix them together. Next, pour more 425ml water and stir well.
- Pour sliced sweet potatoes and shrimps into mixture, mix well.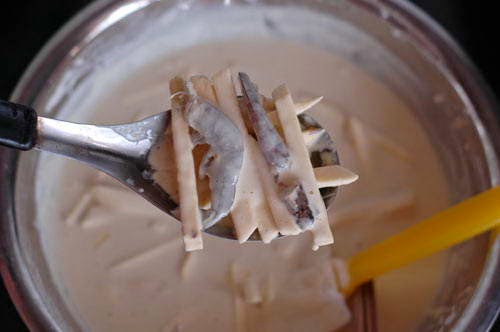 - Add 5 – 6 tablespoons oil into pan, wait to hot. Use one spoon to scoop one shrimp with some sliced sweet potatoes and bring to fry. Always use medium heat to fry. Fry about 4 – 5 minutes, turn another face and continue to fry. Continue until your mixture (in step 4) is out.
- When fried cakes is cooked, put them on plate added paper napkin to absorb wasted oil.
- Clean vegetables: salad, bean sprout, basil, shallot and chili (if you love spicy).
- Making Sweet and Sour Sauce: ¼ bowl fish sauce + ¼ bowl sugar + 1 bowl water mix together. Then, add more 1 tablespoon spoon lemon juice, finally add more minced garlic + chili into sauce. Season to suit your flavor.
- Finally, your dish Fried Sweet Potato with Shrimp Cake is ready to serve. Serving with vegetables and sauce will bring a stunning flavor in your mouth.