(Đậu Phụ Rang Muối) - Fried Tofu with Salt. The crispy from cover of tofu will increase the flavor in your mouth.
You can use Fried Tofu with Salt like a snack or eating with boiled rice is all delicious.
Ingredients
- 3 – 4 slices fresh tofu
- Spices: salt, Maggi's stuff, pepper, spring onion.
- ½ onion
- Vegetable oil
- ½ bowl corn starch/tapioca flour.
Process
- Clean fresh tofu, cut into medium pieces and wait to dry. Marinate with a little salt + pepper and wait about 30 minutes. Clean and sliced into short pieces spring onion. Peel off the cover onion, clean and slice fibers.
- Mix 1 teaspoon salt + ½ teaspoon Maggi's stuff + a little pepper into bowl, stir well.
- Roll sliced tofu through tapioca flour.
- Heat the pan, add oil and wait to hot. Next, add sliced tofu and fry their faces until they turn yellow. Then, put on plate added paper napkin to absorb all wasted oil.
- Next, add more oil and wait to hot. Add more sliced onion and spring onion and fry about 3 minutes.
- Then, add mixture in step 2 into pan and fry well.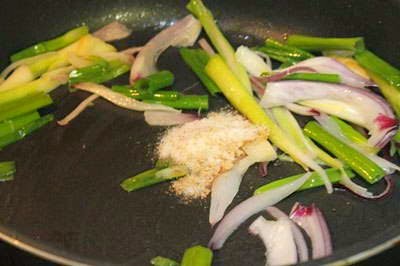 - Next, quickly add fried tofu and fry more 5 – 7 minutes and turn off the heat.
- Before serve Fried Tofu with Salt, sprinkle a little pepper on face. Eating with boiled rice is always a good choice. You can add more soy sauce added chili when eating.