(Cà Chua Chiên với Thịt Bằm) -
Fried Tomato with Minced Pork
is one of best
Vietnamese Food Culture.
Fried Tomato with Minced Pork is a simple dish, and takes just a couple of minutes to prepare and cook. Actually, you just need to cook the minced pork. The amount of time for the stir frying of the tomato is pretty much up to you. The longer you cook it, the softer it becomes. If you prefer it firmer, just give it a few stirs to coat it with the sauce.
Ingredients
- 150 grams grinded pork (you can experiment with minced beef, minced lamb or even minced chicken)
- 3 to 4 tomatoes (choose firm tomatoes, cut into half, do not use seeds)
- 4 cloves garlic (chopped finely)
- Spring onion for garnishing
- 50 ml warm water
- 2 tablespoons cooking oil
- 2 teaspoons light soya sauce
- A couple of dashes of white pepper powder
- 1 teaspoon corn flour
- 1 tablespoon tomato ketchup
- Salt, Pepper and Sugar
Process
- Marinate grined pork for 30 minutes with fish sauce, salt, sugar and pepper.
- Add minced garlic and stir fry till aromatic into hot oil pan. Add more grinded pork and stir fry till cooked (turned color and beginning to brown). Next, use spoon to scoop thix mixture meat into each tomato for filling.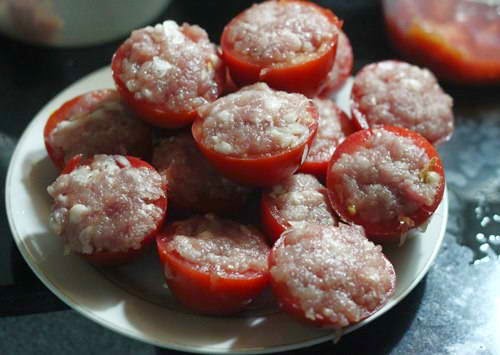 - Then, add minced garlic again into pan added hot oil, fry until it is fragrant and add more sliced tomatoes, spring onions, water and seasoning. Dish up when tomatoes cooked to your desired softness. Turn off the heat.
- Now you can serve one of best Vietnamese Cuisine on the table. Fried Tomato with Minced Pork is more delicious when enjoy with families' member.