(Gỏi xoài xanh tôm khô) - Green mango salad with sun dried shrimp is known as one of stunning Vietnamese Salad Recipes.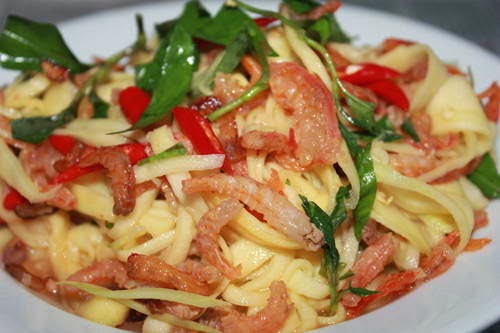 The combination if green mango which have a sour taste and dried shrimp, bring the strange taste but strongly delicious and attractive to anyone who want a new and original dish.
Ingredients
- Green mango: 1 big
- Dried shrimp: 200g
- Minced peppers or chili powder
- Roasted peanuts, salt, sugar, tasty sauce, Vietnamese mints, cinnamon leaves, minced garlic, and cooking oil.
Process
- Peeled the cover of green mango, sliced ​​fibers. Dried shrimp soaked to be soft, take out and rinse with cold water, drain. Fried garlic until golden, dried shrimp fried to fragrant. Rinse Vietnamese mints and cinnamon leaves, chopped.
- Make dipping sauce: 3 tablespoons fish sauce, 6 tablespoons sugar, 2 tablespoon chili powder or minced chili.
- Add mango fibers, dried shrimp and half of Vietnamese mints, cinnamon leaves into a large bowl, sprinkle water, mix and stir well. For about 10-15 minutes.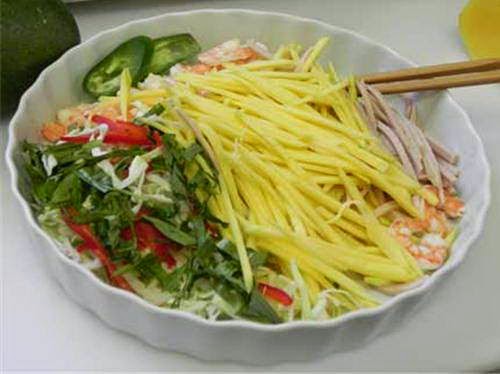 - Serve green mango salad with sun dried shrimp on a plate. Sprinkle with peanuts and remaining Vietnamese mints to the surface.
Serve Green Mango Salad with Sun Dried Shrimp with sweet and sour sauce and deep fried scrimp pastes.