(Thịt Bò Xiên Nướng) - Grilled Beef BBQ comes from many delicious Vietnamese Dish Recipes. This dish is a great choice for your family and friends.
When bring to grill beef with onion and bell pepper, their flavor will combine together and create a stunning dish for all you guys. Around on fire and enjoy this dish on beach is perfect.
Ingredients
- Beef meat: 600g
- ½ yellow bell pepper
- ½ red bell pepper
- ½ big onion
- Salt, oyster oil, sesame oil, honey, sugar, garlic, purple onion, soya sauce
- Wood stick to grill.
Process
- Clean beef, use knife to smash gently it and put in fridge in 5 – 8 minutes. Next, slice into small cubes. Marinate with 1 teaspoon salt + 1 teaspoon oyster oil + 1 teaspoon sesame oil + 2 teaspoons honey + 1 teaspoon sugar + 1 teaspoon soya sauce + minced garlic and purple onion. Mix well and wait in 5 – 6 hours. Here is the important step to create the flavor for one of delicious Vietnamese Dish Recipes.
- Peel off the cover of onion, slice fiber. Clean bell pepper and slice into small square shapes.
- Soak wood sticks into cold water in 30 minutes. Then, stick sliced beef meat cubes with sliced onion and bell peppers.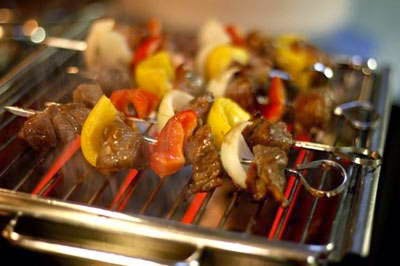 - Put all BBQ sticks on grilling stove. Sometimes, spread mixture sauce from beef meat in step 1 on face.
- Serving Grilled Beef BBQ with salad, cucumber, tomatoes, chili sauce and ketchup is a great decision.