Next dish for Christmas Night, I want to suggest Grilled Bread with Custard Stuffing (Bánh Mì Nướng Nhân Custard).
Beside the main dishes on this special night, you should create many desserts to satisfy your lovely members in family, especially your kids.


Ingredients
For Custard Stuffing
- 3 yolks
- 3 tablespoons condensed milk
- 200 ml fresh milk
- 2 tablespoons wheat flour
- 1 tablespoon corn flour
- 1 tablespoon milk powder
- 50 gr raisin (optional), soaked into rum wine about 2 – 3 hours.
For Bread
- 500 gr wheat flour
- 150 ml fresh milk
- 8 gr blooming yeast (Men Nở)
- 100 gr butter, sliced and melted
- 80 gr white sugar
- ½ teaspoon salt
- 1 egg
- Circle moulds, minced sugar to decorate.
Process
-Add yolks + condensed milk into bowl, use chopsticks to stir well until they mix together.



- Next, add more wheat flour + corn flour + milk powder into mixture (in step 1) and mix well.



- Boil fresh milk then pour it into mixture. When you are pouring, use chopsticks to stir to make sure mixture will smooth.



- Pour all mixture into pot and cook. Do not stop stirring and use small heat to cook. When mixture becomes thick, pour on big bowl, wait to get cool and put in fridge about 2 – 3 hours. If you love raisin, you can add more them into this mixture before put in fridge.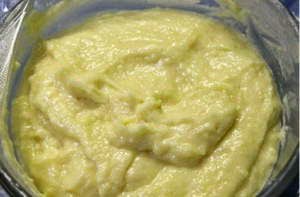 - Boil fresh milk at 60 degree, next add blooming yeast, stir will and wait about 5 – 10 minutes. Make sure you will not boil fresh milk too long, blooming yeast will not working.



- Mix wheat flour + salt + sugar together. Pour them on table, pierce one hole in the center, add egg + mixture (in step 5), use your hand to knead dough until it is smooth.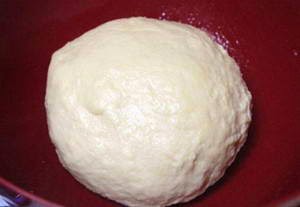 - Use one big bowl, spread melted butter around it, put dough, cover and wait about 1 – 2 hours. After that, knead dough again for 4 – 5 minutes and separate into 10 – 12 small balls equally. And use nylon bag to pack each ball and wait more 5 minutes.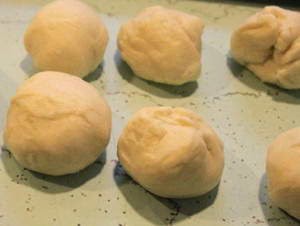 - Next, open them. Next, press each ball thinly. Use spoon to scoop a little custard and add on the center of dough and cover it carefully. Make sure its shape is circle.



- Arrange balls into Christmas Tree, once again use food plastic bag to cover it about 15 – 20 minutes.


- Spread melted butter on Christmass Tree Bread before bring to grill.

- Make sure your grilling stove is at 180 degree and turn on 10 minute before grilling. Next, bring bread to grill about 20 – 25 minutes. Then, put it out and spread again melted butter on face of bread, decorate with minced sugar on face.


- I suggest you should use when it is hot. It can maintain its delicious flavor, especially from Custard Stuffing.