(Cánh Gà Và Rau Củ Nướng) - Grilled Chicken Wings with Vegetable comes from many stunning Vietnamese Cuisine will be shown today.
Chicken wings is grilled with fresh vegetables will bring a fantastic flavor in your mouth. Serving with steamed rice in weekend is never a bad choice.
Ingredients
- 400g chicken wings
- ½ zucchini
- ½ onion
- 200g baby corns
- 200g shiitake mushroom
- Salt, sugar, oyster oil, Maggie Seasoning Powder, honey
- Salad
Process
- Clean well chicken wings with salt in water. Chop in half if they are big. Use knife to cut some lines gently to absorb spices quickly. Boil water; soak chicken wings in 5 – 8 minutes. Then use napkin to absorb water. Season with 1 teaspoon salt, 1 teaspoon Maggie Seasoning Powder, 1 tablespoon oyster oil, 2 tablespoons honey, a little pepper, mix well and wait in 3 – 4 hours.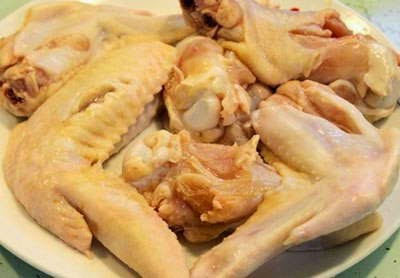 - Clean and cut in circle shapes. Clean onion, peel off the cover and slice fiber. Clean and cut in half baby corns. Clean mushroom and cut in half as well.
- Stick vegetables on wood sticks, sprinkle a little salt around them.
- Bring chicken wings on cob. Sometimes, use brush to spread its mixture on skin to increase its flavor.
- After that, bring vegetable sticks to grill on cob as well. If you want to make it more delicious, you can use the mixture broth from chicken wings to spread it on top.
- Clean salad and arrange on plate.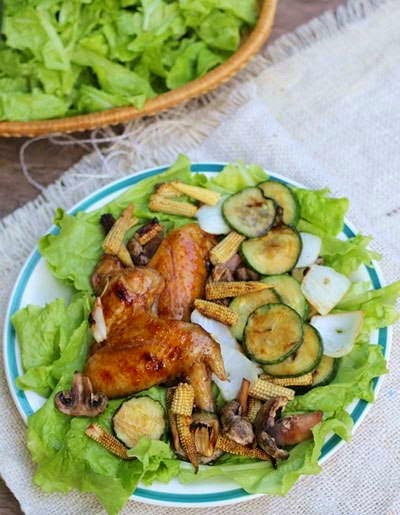 - Finally, you finished Grilled Chicken Wings with Vegetables. Arrange on top and ready to serve with steamed rice or bread is awesome.