(Cá Nướng Riềng Sả) - Grilled Fish with Galingale and Lemongrass is not only delicious, but also really good for health.
In cold days, eating it with boiled rice can make you feel warm inside. Moreover, it can protect you from many diseases when changing weather.
Ingredients
- 1 fish (you can choose scad or butterfish)
- 1 galingale
- 1 tablespoon of minced lemongrass
- Salt, spring onions, pork/chicken broth mix,vegetable oil.
Process
- Wash the fish, use the knife and cut some lines on the fish's body. Marinate the fish with ½ spoon of salt in 15 minutes.
- Peel the skin and mince the galingale well.
- Mince the lemongrass carefully and put it into a bowl.
- Mix the galingale and lemongrass together with your hands. Add some salt, pork/chicken broth mix on the fish's body, marinate for 30 minutes before grilling.
- Put the fish into a tray lined with foil papers; grill at 100oC each side for 40-50 minutes depend on how big the fish is.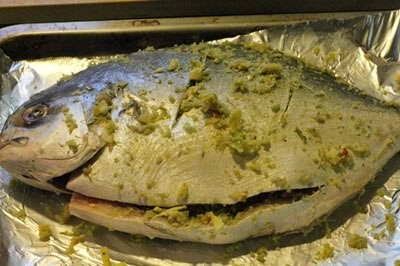 - Remember to take the fish out and spread a little bit of cooking oil with some minced spring onions on the surface. Continue to grill until the fish is cooked, then take the fish out.
- In order to successfully make one of our stunning Vietnamese Fish Recipes, you will have to strictly follow this step; otherwise, the fish will not taste good.
- Finally, you can serve Grilled Fish with Galingale and Lemongrass this amazing dish with rice or vermicelli, soya sauce and vegetables.