(Khoai Tây Nướng Nhồi Xúc Xích) - Grilled Potatoes with Sausage Filling is not only delicious, but also really easy for cooking.
If you do not have much time for cooking, I think Grilled Potatoes with Sausage Filling is a great choice. Eating with boiled rice or with chili sauce is all perfect.
Ingredients
- 5 small potatoes
- 30g Cheddar cheese
- 30g cheese (long pieces)
- 100ml whipping cream (has sugar)
- 30g sausage
- 30g pork bacon
- 10ml lemon juice
- Spices: salt, sugar, pepper.
- Coriander.
Process
- Boil potatoes. If you want they are cooked quickly, you should cover the pot when boiling.
- While waiting boiling potatoes, slice small sausage and pork bacon and bring to roast quickly in 5 minutes.
- Making sauce: add 3 – 4 lemon drops in whipping cream and mix well.
- When potatoes are cooked, use a knife to cut one line on them. Next, use spoon to rake the meat potatoes well.
- Add 2 kinds of cheese into potatoes.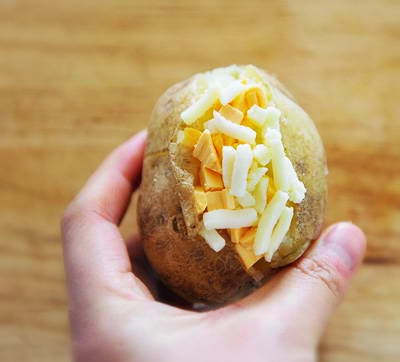 - Bring to grill at 190 degree in 5 minutes. Next, when they are still hot and cheese is melting, sprinkle mixture in step 2 on face of cheese.
- Finally, you can serve
Grilled Potatoes with Sausage Filling
for your family and friends.