(Đùi Gà Nướng Cay) - Grilled Spicy Chicken Thighs. The sweetness from chicken meat is combined with chili powder will create an amazing flavor in your mouth. You can use it like a snack meal or eating with boiled rice is all delicious.
Ingredients
- 3 – 4 chicken thighs
- Salt, sesame oil, brown sugar, honey, chili powder
- Cucumber, tomatoes, carrot and salad.
Process
- Clean carefully chicken thighs, peel off the cover or not depends on your flavor.
- Use knife to cut gently a cross in each thigh to absorb spices quickly. Put them into pot, add more cold water and boil until they are nearly cooked.
- Put chicken thighs on plate after boiled. Use paper napkin to absorb all water. Marinate with 1 teaspoon salt + a little sesame oil + 1 teaspoon brown sugar + 1 tablespoon honey and 1 -2 teaspoons chili powder (depend on your flavor).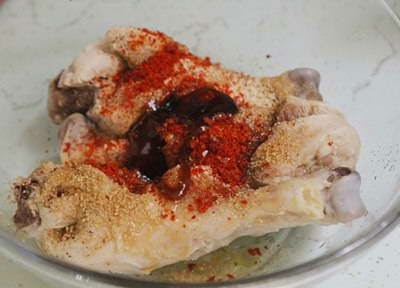 - Use your hands to spread all spices on face of chicken thighs. Cover by nylon bag and put in fridge from 4 to 5 hours.
- Then, bring to grill at 180 degree in 10 – 15 minutes. Sometime, you use brush to spread the sauce from mixture chicken thighs with spices on face to make sure their skins are not dried.
- Add some cucumber, tomatoes, salad and carrot around plate to decorate. Eating with chili sauce or soya sauce is all delicious.
Moreover, you can use Grilled Spicy Chicken Thighs Recipe like a main dish with boiled rice and hot soup.