(Bánh Tiêu Nhân Bò Lúc Lắc) - Hollow Donut with Shaken Beef Filling. Have you ever thought that you can combine them together before? Let us try to cook and taste it.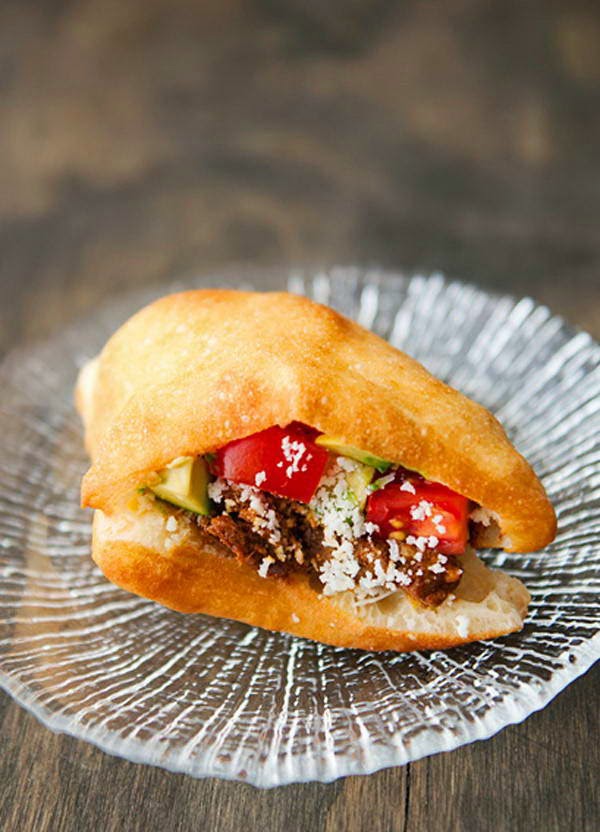 Beside of making Hollow Donut and eating with Steamed Rice Cakes (Bánh Bò), you also can create something new for this delicious food.
Ingredients
- Beef meat: 300g
- Pepper: 3g
- Chili powder: 5g
- Salt: 10g
- Dill flour: 3g
- Garlic: 5g
- Lemon juice (the first water): 20ml
- 5 hollow donut (you also can make it at home by my recipe)
- ½ avocado fruit
- 1 tomato
- Olive oil.
Process
- Clean beef meat in 2 – 3 times. Slice into small cubes.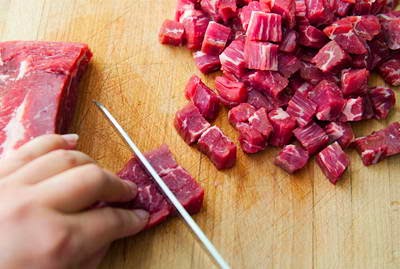 - Mix all dried spices together: chili powder, dill flour, pepper and salt. If you do not want to create this flavor for one of stunning Vietnamese Cuisine, you also can use these spices: soya sauce + oyster oil + sesame oil + sugar + pepper + salt.
- Marinate the mixture spices in step 2 with sliced beef in step 1. Wait in 30 minutes. To increase the flavor for this dish, you can use your hands to press gently to make sure beef meat will absorb all spices and become soft when cooking.
- Peel off the cover and mince garlic well. Add 2 – 3 teaspoons oil, wait to hot and add more minced garlic and fry until it is fragrant. Then, add more sliced beef in step 3 into pan and fry quickly in 3 – 5 minutes with large heat.
- After that, add more lemon juice into pan. Fry well.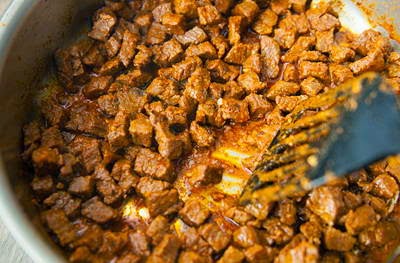 - Wait until the sauce from this food is nearly ran out, season again and turn off the heat.
- Before serve Hollow Donut with Shaken Beef Filling, we will make the full filling for these hollow donuts. Slice avocado and tomato into small cubes. Add one by one a little shaken beef, sliced avocado + tomato inside each hollow donut. If you love cheese, you can sprinkle a little on face before eating.