(Bun Bo Hue) - Hue Style Beef Noodle Soup is one of popular Vietnamese Food Culture which containing rice noodle and beef.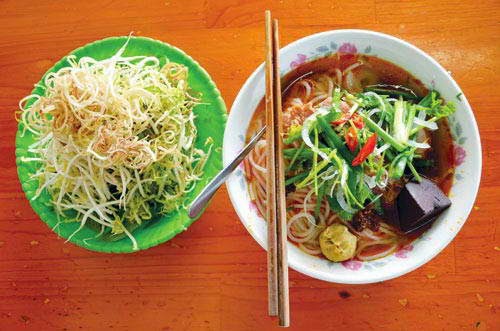 Hue Style Beef Noodle Soup is from the middle Vietnam - Hue, a former capital of Vietnam associated with the cooking style of the former royal court.

Hue Style Beef Noodle Soup is mildly spicy and the predominant flavor is that of lemon grass. This dish usually includes thin slices of marinated and boiled beef shank and knuckles of pig. It can also include cubes of congealed pig blood. This dish is commonly served with lime wedges, sprigs, diced green onions, raw sliced onions, chili sauce, thinly sliced banana blossom, red cabbage, mint, basil, coriander and bean sprouts.
Gredients
- Beef shank: 1kg
- Fresh beef bone stew: 500gr
- Hue shrimp paste: 2sps
- 6 to 7 lemongrass, pilgrims.
- Salt, pepper, suger, fish sauce
- Onions, scallions, coriander, banana, and bean sprouts
- Chili powder and colored beads
- Some blood pudding
Process
- Dissolve 2 spoons of Hue shrimp paste with a cup of cold water, comb through sieve.
- Pouring beef' trotters in the water for deleting all impurities.
- Marinate beef shank in Hue shrimp paste water.
- Add 2 spoons delicious fish sauce, 1 teaspoon salt small coffee, use chopsticks to mix meat absorbed spices, marinated within 2 hours.
- Wash the lemongrasses, use only the column shaft.
- After marinating meat, take the pot on the stove, pour beef, beef bones to the pot, pour water flooded the meat, boiling, and skim foam in water.
- Fry the color beads on, use a small pot, when the oil is hot, take the color beads into pot, and remove seeds, fry the pilgrims until fragrant, mix well and set aside.
- Poured color beads water into the pot of sauce
- When beef shanks are soft, pick them out. After that you flavor with a little salt and sugar in the broth.
- Slicing beef into thin pieces, divided them in middle of the bowls.
- Onions peeled and sliced ​​scallions state incised, coriander picked clean. Clean bean sprouts
- Now put rice noodles into bowl, add little beef shank slices, little onion, green onion, and pour broth. It's more delicious when serve with bean sprouts, corianders. Add a little hot sauce if you can eat spicy food.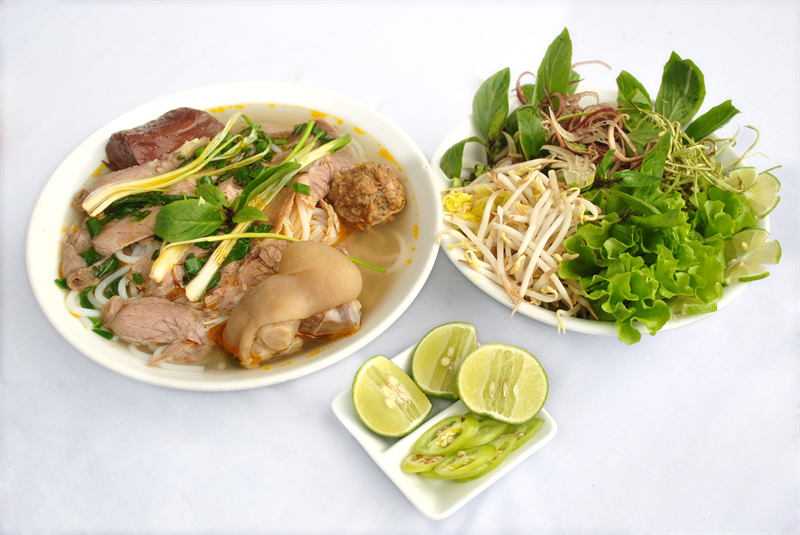 Hue Style Beef Noodle Soup which is one of popular Vietnamese Food recipes, is diversity of ingredients, so you can change it up to your preference. You can add pork leg tunnel ball, Hue, or overcome beef, beef liver, crab rolls.
If you travel to Vietnam, you should eat Hue Style Beef Noodle Soup at least once; ensure that you will not be disappointed with our cuisine.