(Canh Su Hào Bắp Bò) - Kohlrabi with Thigh Beef Soup is good for your family health, so you will be regret if missing this amazing this for your daily meal in the cold weather like today.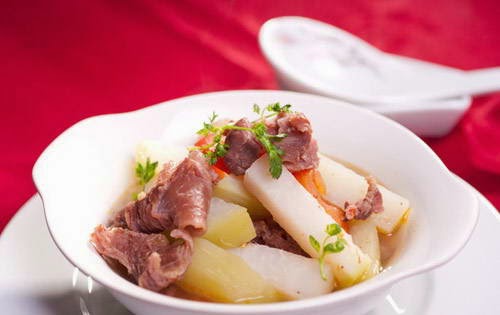 Ingredients
- 300-400g thigh beef meat, cleaned and sliced thinly
- 1 large kohlrabi, peeled and sliced.
- 2 tomatoes, cleaned sliced into 6 parts for each
- Ginger, peeled and crushed
- Cilantro, cleand and sliced small
- Fish sauce, maggi's stuff, salt, sugar, pepper
Process
- Beef washed, sliced ​​, marinated with ginger, fish sauce and pepper for 30 minutes. Then add beef in the pot, pour water flooded the beef and simmer until beef is soft.
- When beef is soft, add more kohlrabi, tomatoes and cook until they are all soft. If water is nearly out, pour more water and season to suit your flavor with fish sauce + maggi's stuff + sugar + salt + pepper. Turn off the heat.
- Ladle Kohlrabi with Thigh Beef Soup on bowl, sprinkle a lille pepper and sliced cilantro on face of soup.