(Chè Xoài) - Mango Sweet Soup is the combination of main ingredient – mango with strawberry, watermelon, basil seeds, condensed milk, coconut syrup and tapioca pearls.
It sounds really amazing, right?
Ingredients
_ 3 – 4 mango fruits
_ 5 – 6 strawberries
_ ¼ watermelon fruit
_ 1 tablespoon basil seeds
_ 1 tablespoon tapioca pearls
_ Condensed milk
_ Coconut syrup
_ Sliced coconut meat.
Process
- Cut in half mango, use spoon to scoop into small balls.
- Use spoon to scoop watermelon into small balls as well.
- Clean strawberry and slice thinly.
- Soak tapioca pearl in water about 10 minutes. Next, pour into hot water and boil until it is cooked. Wash immediately in cold water, wait to dry.
- Soak basil seeds in 15 – 20 minutes. Wait to dry.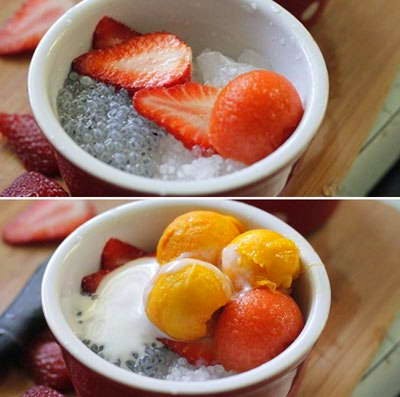 - When serve Mango Sweet Soup, add a little tapioca pearl, basil seeds, some sliced strawberry, watermelon and mango on face of dish. Pour more coconut syrup and condensed milk with sliced coconut meat. Then, add more grinded ice and ready to enjoy.