(Cơm Trộn Thịt Bò và Củ Cải) - Mixed Steamed Rice with Beef and White Radish is one of amazing Vietnamese Cuisine.
Ingredients
- Rice: 500 gr
- 1 white radish
- Beef: 300 gr
- Soysauce: 3 tablespoons
- 3 cloves of garlic
- Chili powder: 1 teaspoon
- Sesame oil: 1 teaspoon
- Salt: 1 teaspoon
- Roasted sesame, spring onion.
Process
- Clean beef, use paper napkin to absorb water and slice thinly.
- Manriante beef with minced garlic, 1 teaspoon salt, 1 tablespoon soysauce, 1 teaspoon sesame oil.
- Mix them together and wait in 30 minutes.
- Peel off the cover of white radish, wash quickly and slice thinly like beef.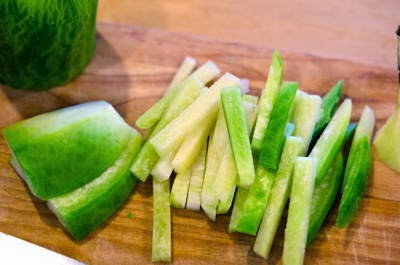 - Clean rice in 3 times, pour water until it reaches 2 cm from the top of rice.
- Next, add sliced white radish on top of rice.
- Then, add beef on top of white radish and bring to cook. Here is final important step to create one of amazing Vietnamese Food Culture from us.
- Clean spring onion and slice small. Mix it with olive oil and put in microwave in 30 seconds.
- Add 2 tablespoons soysauce, 1 bunch of roasted sesame, 1 teaspoon chili powder into mixture in step 8, stir gently for using like sauce of this dish.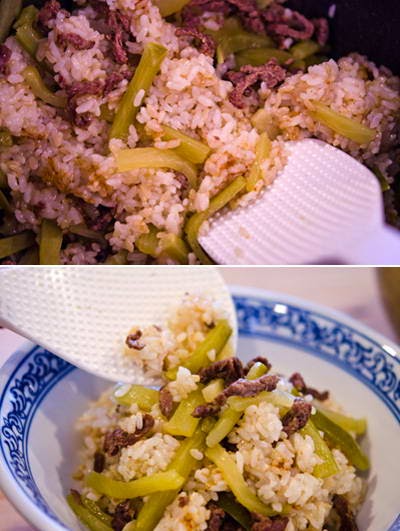 - When rice is cooked, use wood spoon to mix stir gently (do not stir firmly, it will break rice, look not delicious anymore) and scoop on bowl.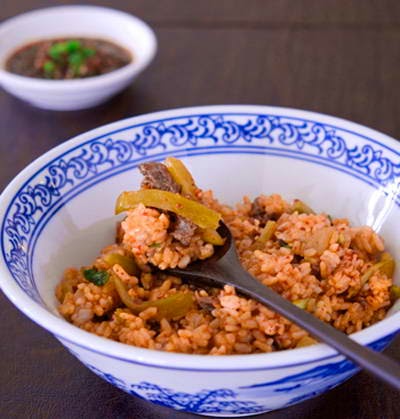 - Mix rice with sauce in step 9 to suit your flavor.
- Finally, Mixed Steamed Rice with Beef and White Radish is finished by you.