(Mít Non Trộn Thịt Ba Chỉ) - Mixture Baby Jackfruit with Pork Meat comes from many stunning Vietnamese Cuisine.
With many simple ingredients, and its process is not much difficult, you can create a fantastic flavor for your own meal. Serving with grilled rice pancakes (bánh đa nướng) is my choice.
Ingredients
- 300g baby jackfruit
- 150g pork meat (half lean half fat pork)
- Vietnamese mint herb, basil leaves, cinnamon leaves
- Roasted peanut, sesame, fish sauce, sugar, garlic, chili, lime
- Grilled rice pancakes (bánh đa nướng) or deep fried shrimp cakes (bánh phồng tôm)
Process
- Clean well baby jackfruit, slice into short pieces.
- Bring to boil with water until it is cooked (soft).
- Put them on plate; wait to reduce heat, peel off the harsh cover; use your hands to tear it small and thinly.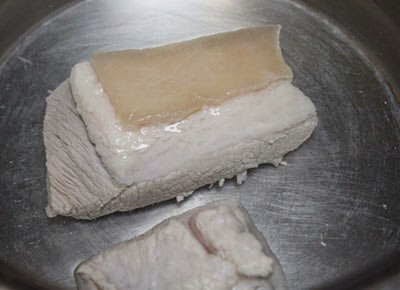 - Clean and boil pork meat. Wait to reduce heat, slice thinly.
- Clean all leaves and slice small.
- Smash well roasted peanut and sesame.
- Mince garlic, add 2 teaspoons fish sauce, 2 teaspoons sugar, 2 teaspoons water, stir well until sugar is melted. Next, mix sliced baby jackfruit with sliced pork and dipping sauce into big bowl.
- Then, add more roasted peanut and sesame with all leaves, mix well by chopsticks, season again to suit your flavor. Add more lime water before serving.
- Eating Mixture Baby Jackfruit with Pork Meat with grilled rice pancakes or deep fried shrimp cakes is all delicious. You can add more extra dipping sauce on small bowl when serving.