(Bánh Flan Bông Lan) - Mixture Flan and Sponge Cake comes from many stunning Vietnamese Cuisine. You also can make it for any party at your own house or friend's shouse.
Ingredients
Making sponge:
- Caramel sauce: 125ml
- Cake flour: 150g
- Cacao flour: 83g
- Baking soda: 3g
- Dark chocolate: 120g
- Butter: 90ml
- Buttermilk: 125ml
- Sugar: 125g
- 2 eggs
- 5ml vanilla
Making flan cake:
- Condensed milk: 420g
- Fresh milk: 625ml
- Cream cheese: 180g
- 6 eggs
- 4 yolks
- Vanilla: 5ml
Process
- Mix cake flour, cacao flour, baking soda and a little salt into small bowl, mix well.
- Put chocolate and butter into glass bowl, put into microwave about 2 minutes or until they are all melted.
- Next, add more buttermilk, sugar, eggs and vanilla into mixture, stir well.
- Pour all mixture flour into mixture slowly and stir well.
- Spread a little butter or oil around pattern and pour caramel sauce into bottom.
- Then, add more mixture chocolate and spread gently.
- Making flan cake: mix condensed milk, whipping cream, cream cheese, eggs, yolks and vanilla into mixer machine, mix in 1 – 2 minutes.
- Pour this mixture into pattern in step 6 as well. Put it on grilling tray.
- Pour water into tray.
- Bring to grill about 75 – 90 minutes at 180 degree.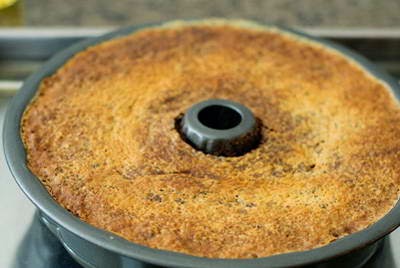 - Finally, you already finished Mixture Flan and Sponge Cake.