( Cà Ri Cay Thập Cẩm ) - Mixture Spicy Curry could become a stunning meal for your beloved family and friends in that day. Eating it with boiled rice or bread is all good choice.
Ingredients
- Vegetable oil: 15ml
- Thai chili curry sauce: 45gr – Buy at Thai Markets
- Coconut milk: 700ml
- Fish sauce: 60ml
- Sugar: 10gr
- ½ lemon fruit
- Fresh chili: 8gr
- 4 slices tofu
- Young corn, cleaned: 350gr
- Straw mushrooms: 350gr , cleaned and cut off the root
- Sliced fresh bamboo shoot: 250gr
- Bean sprout
- 6 cloves basil.
Process
- Cut tofu into medium pieces like photo below. Add 1 tablespoon into pan, wait to hot, bring sliced tofu to fry until they turn brown yellow all faces.
- Heat the clean pot again, add 1 tablespoon oil + chili curry sauce + 120ml coconut milk into pot; cook with medium heat until it is fragrant.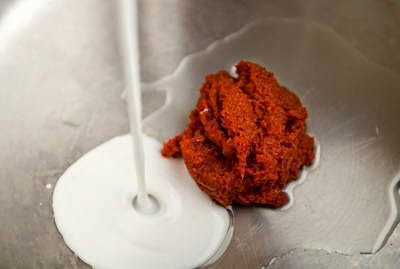 - Next, pour the left of coconut milk into pot, then add more fish sauce + sliced chili + fried tofu + young corn + straw mushroom and bamboo shoot.
- Add some basil leaves into pot and cook with medium heat until it boils.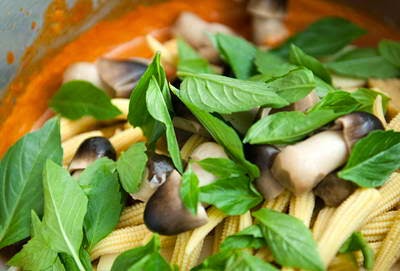 - Stir well and continue cook for 20 minutes and season again to suit your flavor. Turn off the heat.
- When serving, scoop into bowl, add more basil leaves; bean sprout and lemon juice on face and ready to enjoy. Mixture Spicy Curry is perfect when it is hot and using with bread or boiled rice.